After speaking at the SMPS Pacific Regional Conference in Portland, Irina approaches me saying, "I read your article on AEC rebranding in the PSMJ Newsletter." Upon handing me her business card, she confesses, "I know, we need your help." Irina's card reads Marketing Manager at Murray, Smith & Associates, Inc. (aka MSA) an 8-office, 120-person civil engineering firm located in Oregon, Washington, and Idaho.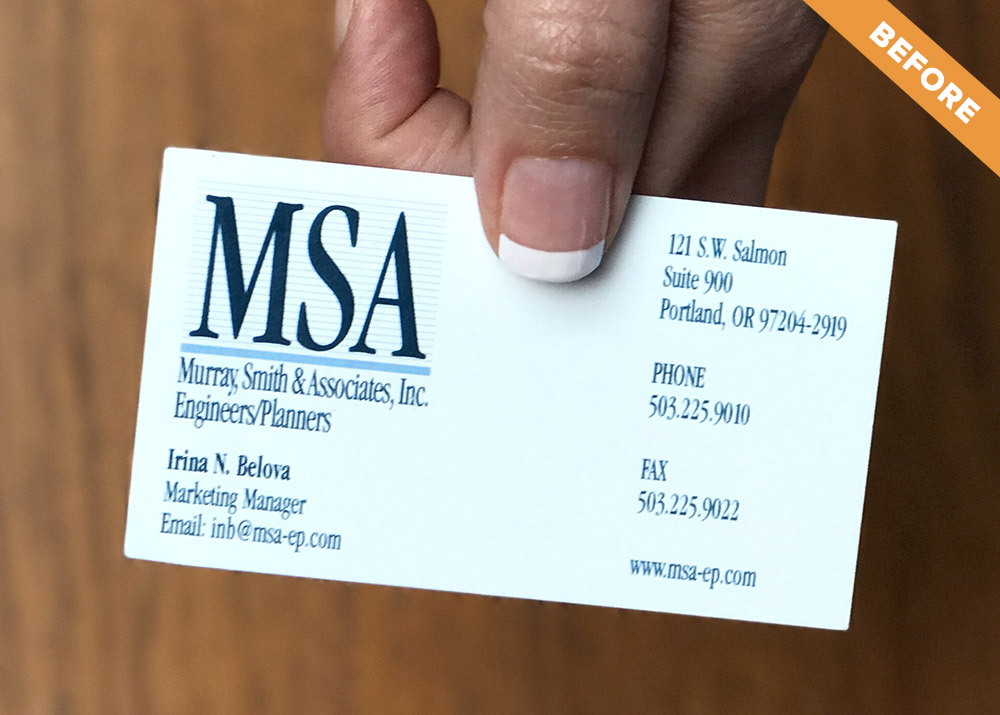 While Irina's Marketing Department understands the value and need for branding, many of the firm owners are reluctant to invest in a rebrand when "business is good, why should we change?" Plus, an attempt at DIY rebranding, and hiring a consultant unfamiliar with A/E/C marketing, had both failed.
To help the owners make an informed decision on whether or not to rebrand, I propose they commit only to a Discovery Phase. This phase includes a review of their strategic plan, a brand audit rating 75 brand touchpoints, personal interviews with recent hires, and a competitive audit. The main deliverable is a Findings & Recommendations Report. Here is my discovery:
---
The Challenge
The use of two brand names, MSA and Murray, Smith & Associates, Inc. confuses those unfamiliar with the firm. The acronym MSA is generic, lost among AEC firm alphabet soup names. With no Murray, Smith, or Associates at the firm, this name doesn't reflect where the firm is headed. In short, two names and both are weak.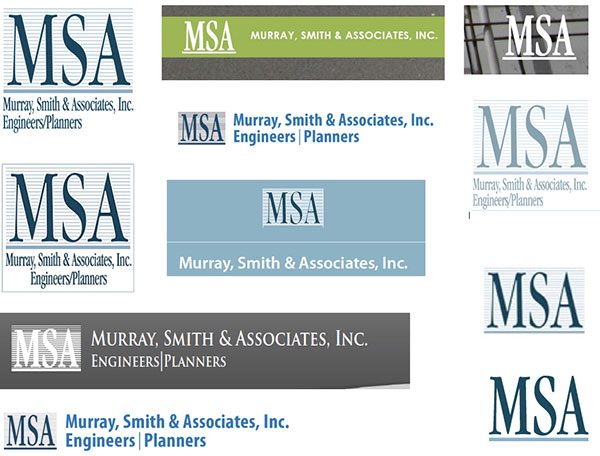 Internal and external feedback reveal a brand identity that has gone stale. Compounding the problem are the inconsistent versions of the logo (see above). The horizontal lines behind MSA in the logo are problematic at small sizes and when reversed out (white on dark backgrounds).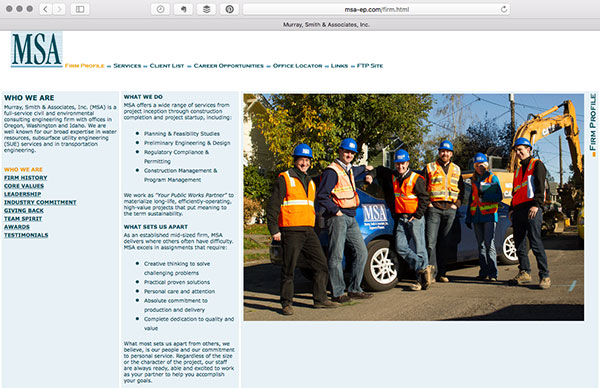 The only thing that everyone at MSA agrees upon is that the website is terribly outdated (see above). The competitive audit (see below) reveals how much the site lacks in terms of modern website attributes.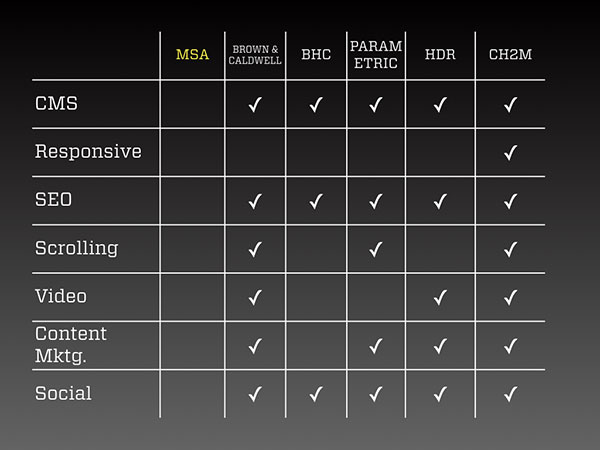 A recent hire shares, "If I were choosing a firm solely based on their website, I would never work here."
I fly to Portland to share the Findings & Recommendations and Why Branding Matters in a presentation to the owners. The room is filled with mostly smiles and heads nodding in agreement, but there are a few owners with folded arms still reluctant to move forward. The proposal to rebrand is ultimately approved, but for a novel reason. MSA's rationale for rebranding is not to attract new clients, but specifically to attract and retain talent. I share that the two are not mutually exclusive and that the work we do to attract and retain talent will also benefit marketing and business development.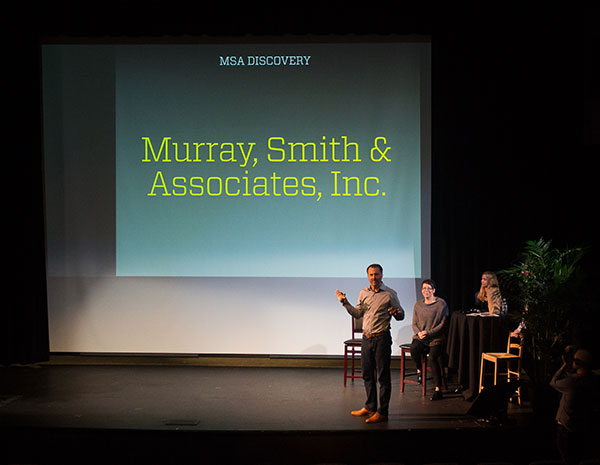 ---
The Solutions
Strategy First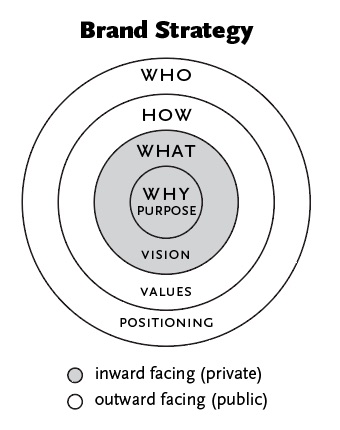 A strong brand is rooted in solid brand strategy. This means having well-articulated Purpose, Vision, Core Values and Positioning statements.
The following already exists from MSA's work in the book Traction, by Gino Wickman:
Purpose – Creating Infrastructure Solutions to Help Communities Prosper
Vision – grow 10% per year to 250 by 2025
To develop Core Values and Positioning, I lead a half-day workshop with the newly formed branding committee. Participants arrive at the workshop with previously assigned homework complete. I explain that a positioning statement should define what you do, who for, how you are unique and how this benefits your target audience. We develop a long list of unique attributes and engage in group prioritization exercises to narrow to the top three shown here:
Just the Right Size
We are large enough to employ diverse talent to solve your biggest challenges, yet small enough to genuinely care.
We Keep Great Company
Our people are like super glue. They tend to stick around awhile. And that's some strong stuff, which means you get a strong team. We take care of our people so they can take care of you.
We're Invested
We are personally invested in your success "" for the long term. Not just for your next project. As your projects and challenges evolve, we'll still be by your side. As an extension of your staff, we'll work together to help our community prosper.
Positioning
From these three uniques, we develop the following positioning statement as seen on the home page of our new website.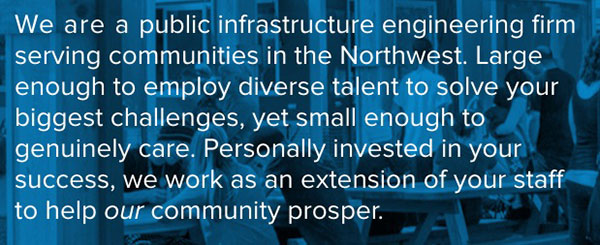 Core Values
Our workshop yields seven Core Values that we later expand upon and manifest as a faux craft beer coaster for each of the seven Core Values. Why craft beer coasters? We draw from Just the Right Size, Our Work Goes on the Fridge (Obsession with Quality) and focus on the Northwest. Each of the seven Core Values is letterpress printed (a craft printing technique) with the value on the front, and more detail about what the value's meaning on the back. To give each value the gravitas it deserves, and to create a sense of anticipation, we recommend the distribution of one new Core Value coaster to each employee for seven consecutive weeks.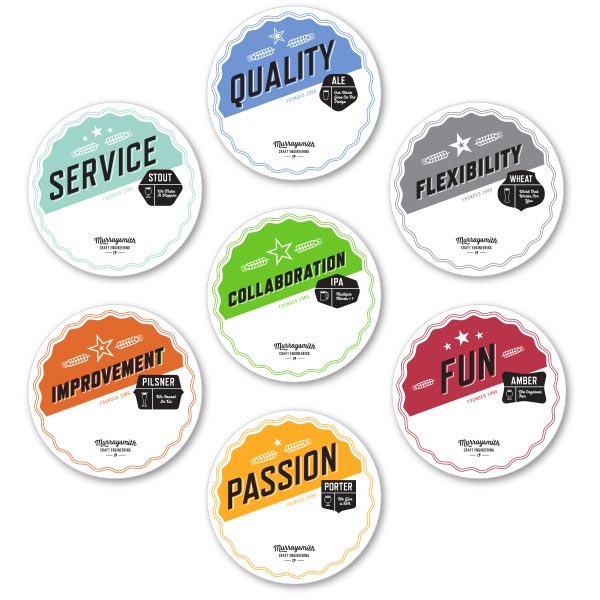 We Make it Happen (Service)
We Invest in Us (Improvement)
Our Work Goes On The "˜Fridge (Quality)
Multiple Minds > 1 (Collaboration)
Work That Works For You (Flexibility)
We Engineer Fun (Fun)
We Give a $#!T (Passion)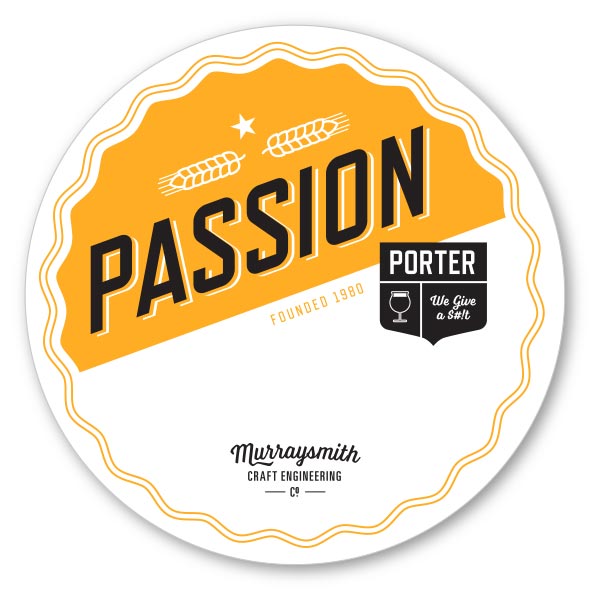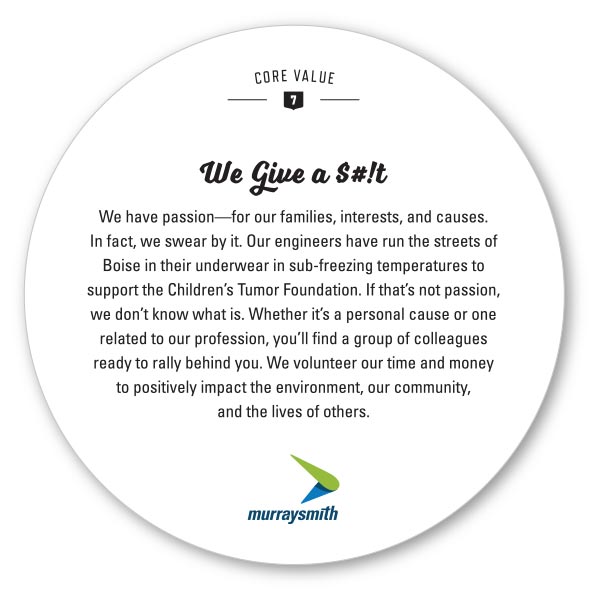 Brand Personality
Before developing a new firm name and logo, we establish brand personality attributes. These constraints, along with the brand strategy, help us edit from many options to a few finalists. All future marketing communication should embrace at least one, if not several of the following brand personality attributes. If MSA were a person, she would be described as:
Imaginative
Dependable/Trusted
Relatable
Sincere
Fun
---
Naming
We present over 75 possible new firm name options and refine to seven semi-finalists. After a loose trademark and URL availability search, we whittle down to four finalists. Ultimately, with new brand positioning, core values, logo, and website, the owners are not comfortable with an entirely new name at this time. So we propose retiring MSA and Murray, Smith & Associates, Inc. in favor of Murraysmith (one word, one company, capital "˜M,' lowercase 's'). With the attention to quality and right size, Murraysmith can be considered craft engineers. The -smith suffix suggests being thoughtful makers. Much like the honored tradition of a Blacksmith, Goldsmith, or Alesmith, they are now Murraysmith. While Murraysmith will typically be used as a noun (the name of the firm), it can also be used as a verb. As in, "Murraysmith that curb detail because our works goes on the "˜fridge."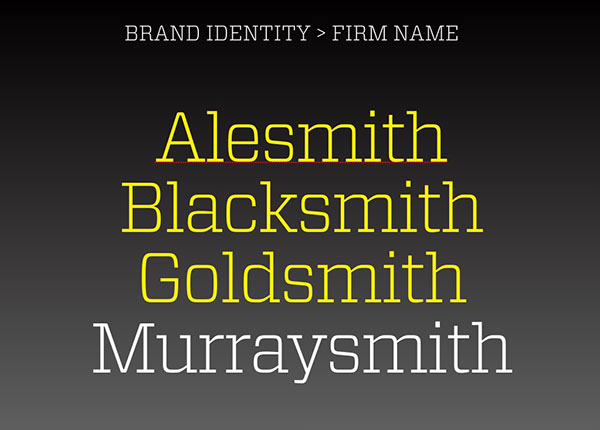 ---
Logo
We begin sketching rough logo ideas, which get drawn digitally in Adobe Illustrator, then refined, and presented as 7 explorations in grayscale. Based on feedback, we refine three finalists in color and show what the logo might look like on a business card.
Rough Logo Ideas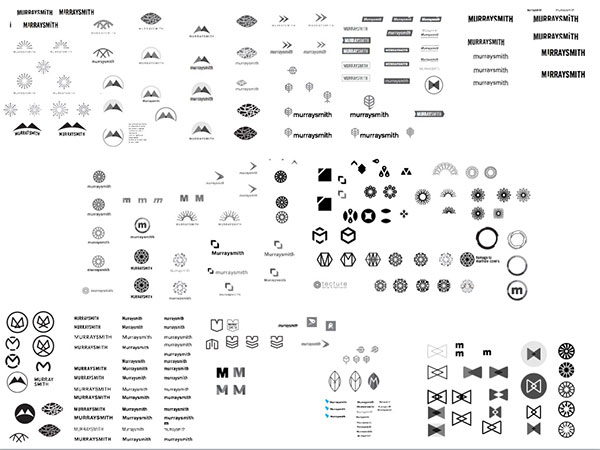 Refined Logos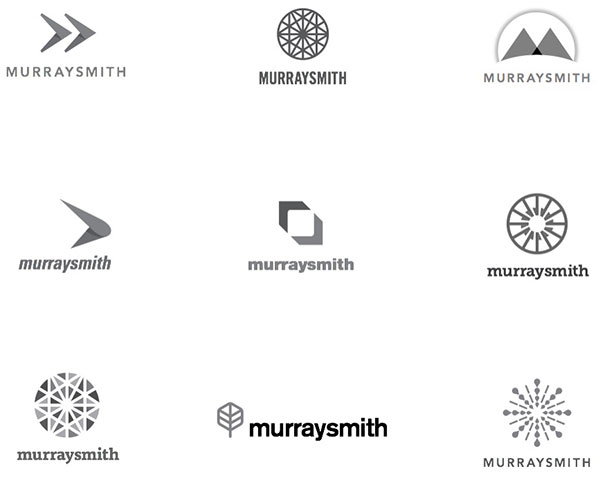 Logo Finalist #1 (below) in Color and Application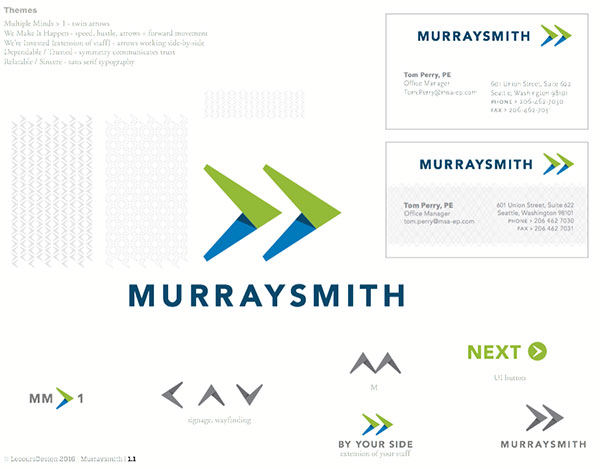 Logo Finalist #2 (below) in Color and Application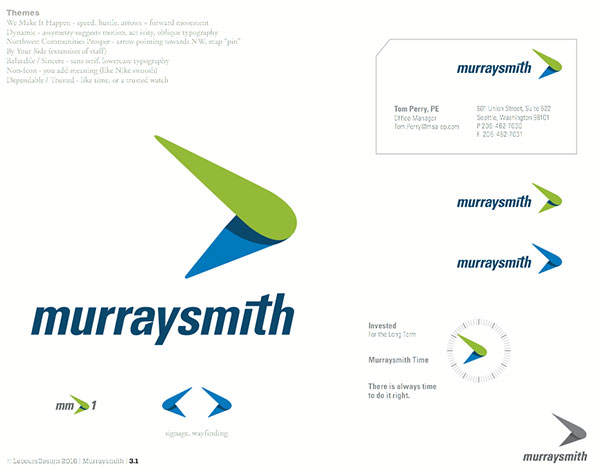 Logo Finalist #3 (below) in Color and Application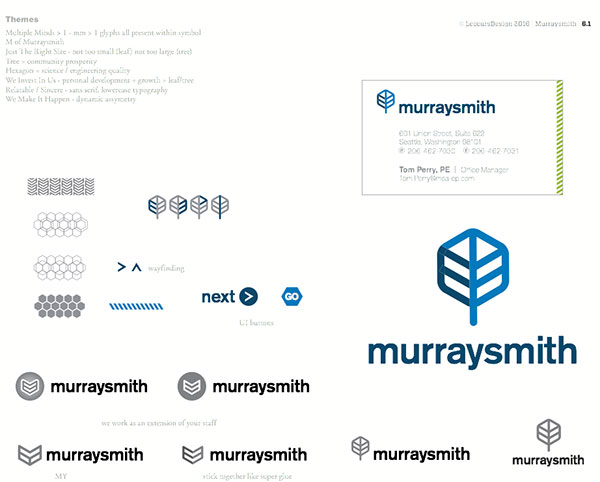 The final logo design evolves from prioritized aspects of the Core Values, Positioning Statement, and Brand Personality attributes. For example, We Make It Happen, is represented by the forward moving arrow shape and right-leaning wordmark. With a focus on the Northwest, the green "pin" within the arrow points to the northwest corner of the United States. Being relatable and sincere, we choose lowercase, sans-serif typography for the custom wordmark that reads "murraysmith." To retain equity from the past, the logo uses legacy colors in use for the past five years. While elements of the logo have meaning, we purposely design an overall abstract symbol that, as Murraysmith continues to deliver on their promises, will gain meaning over time.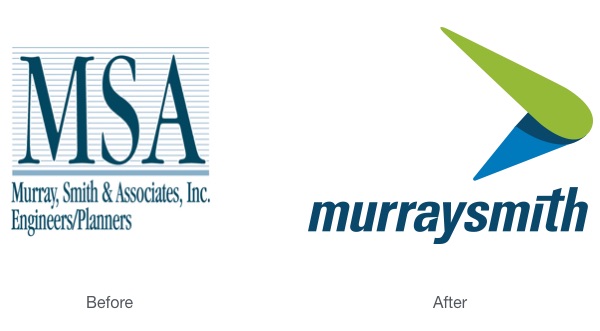 ---
Stationery & Forms
Now the approved logo is ready to be applied to brand touchpoints. We start with the business card because of the challenge to design in such a small space. When the design works as a business card, it will be successful on other brand touchpoints including the entire stationery system.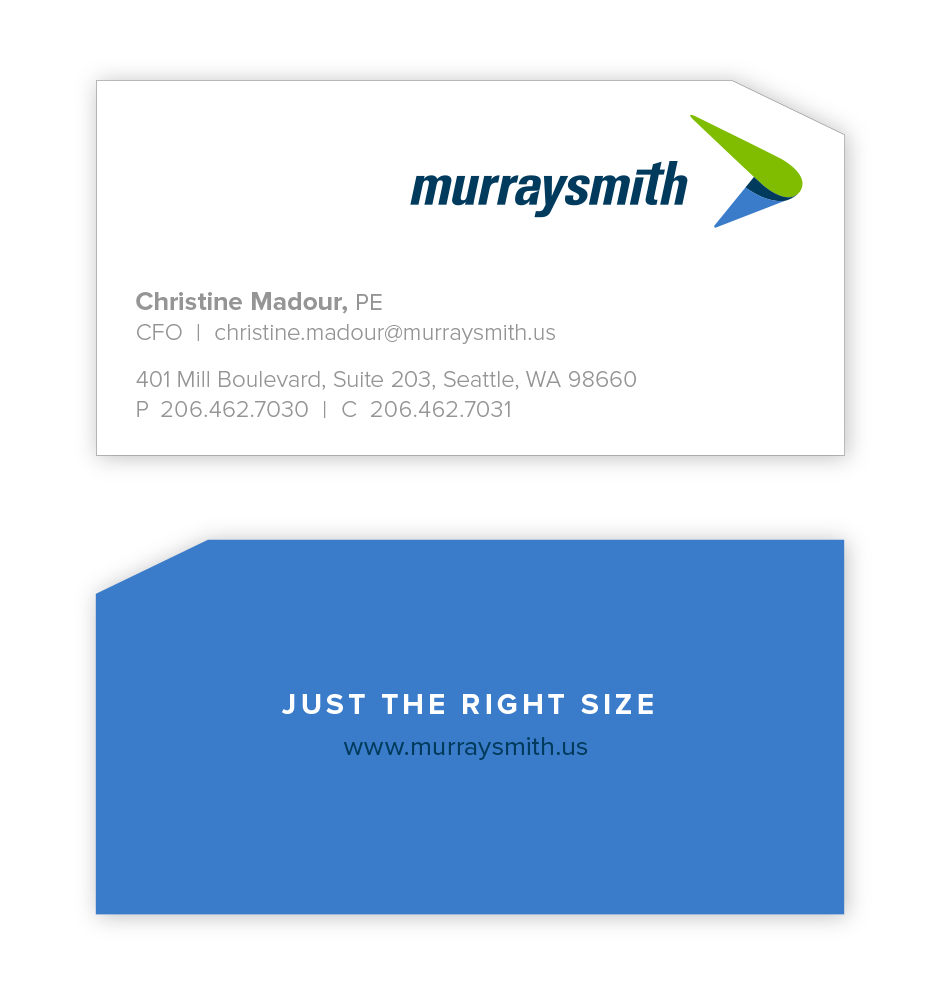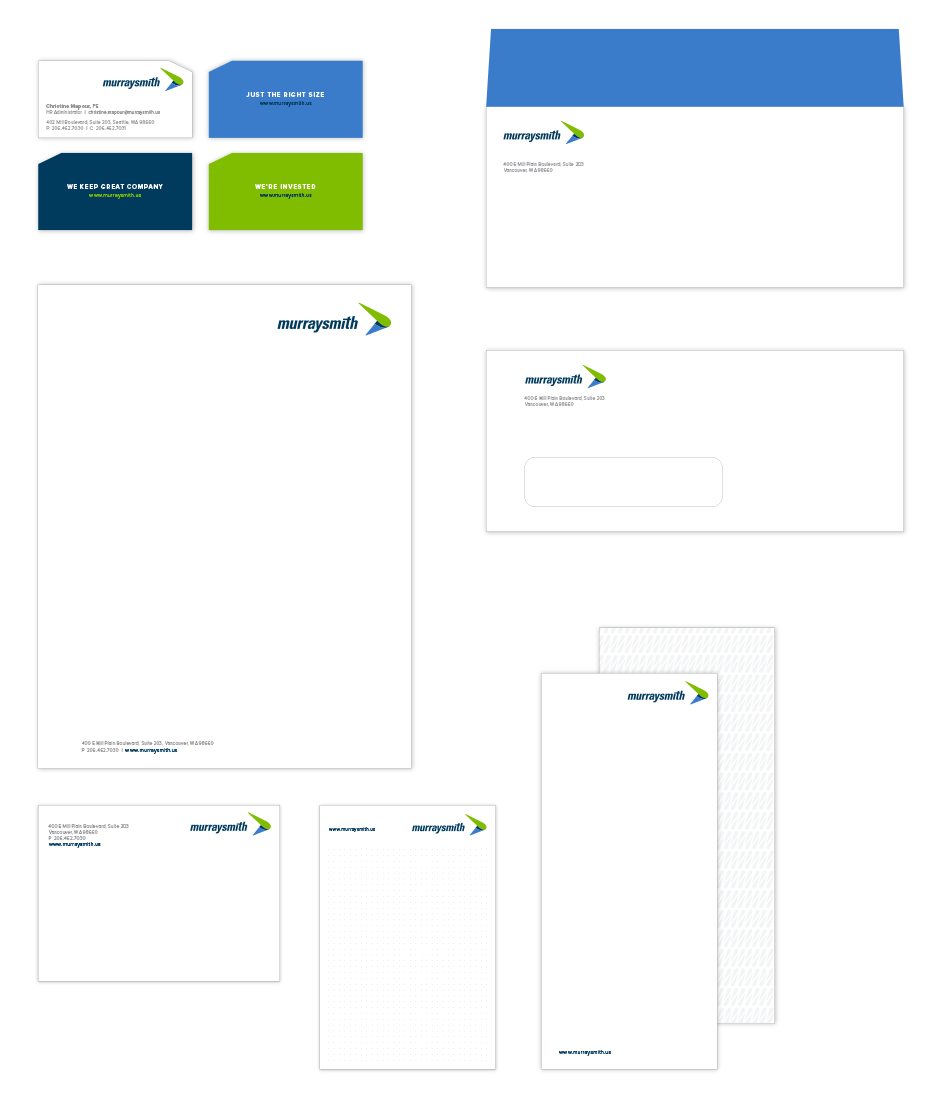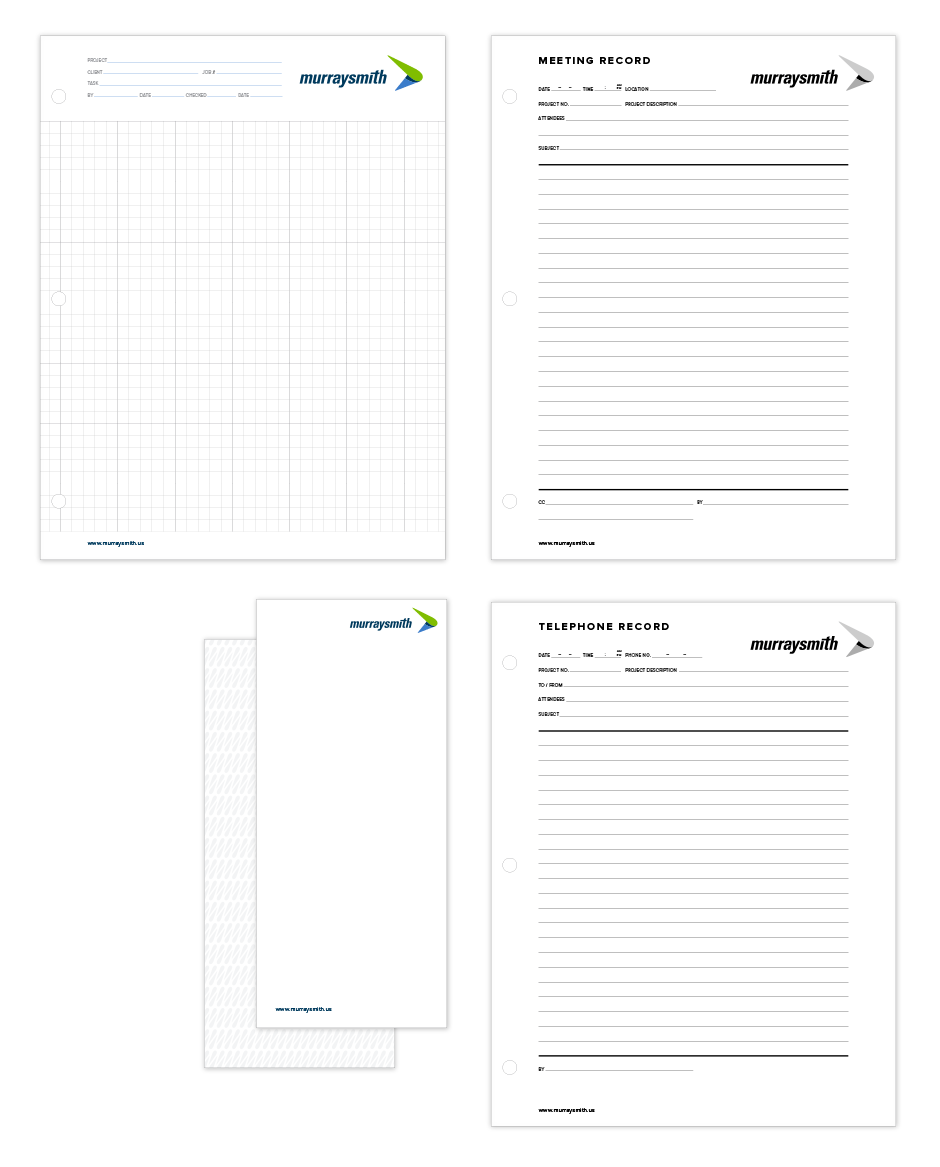 All employees receive their business cards with three different backs to honor the Three Uniques. The cards are efficiently smaller than conventional business cards because Murrasymith isn't a conventional firm. Upon receiving the new card, a prospect, might remark, "that's an interesting size for a business card." Murraysmith staff can then proudly reply, "actually, it's just the right size" with a wink, while handing out the version of the card with "Just The Right Size" on the back. Employees can then explain how Murraysmith is Just the "Right Size," or "We Keep Great Company," or "We're Invested" depending on the context of the previous conversation with the person receiving your new card. If unsure about which version to hand out, we recommend letting the recipient choose in playful "pick a card, any card" banter.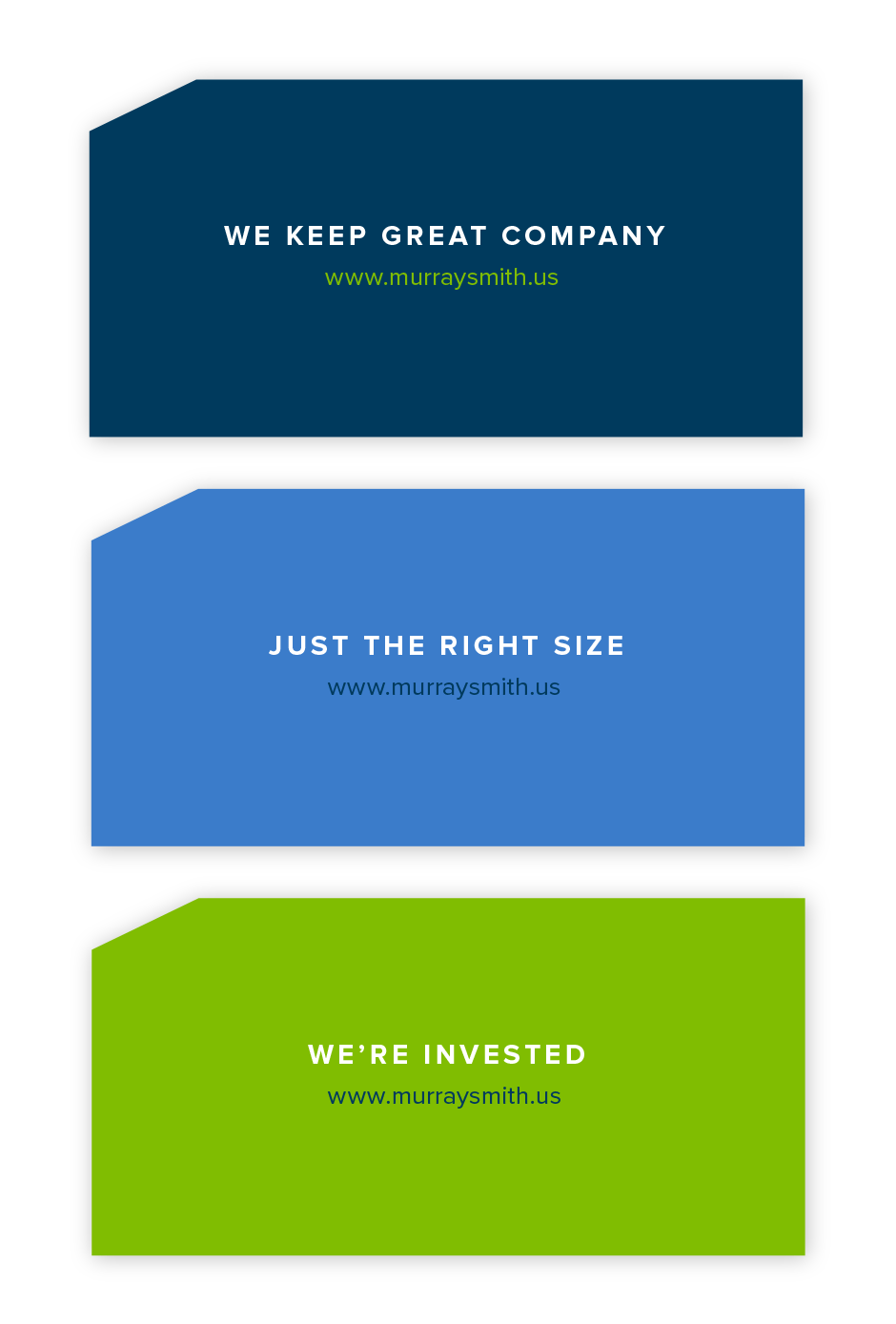 ---
Website
For simplicity, memorability, and consistency with the new brand name, the new URL is www.murraysmith.us. The previous URL www.msa-ep.com automatically redirects users to the new URL and website. Go ahead, try it!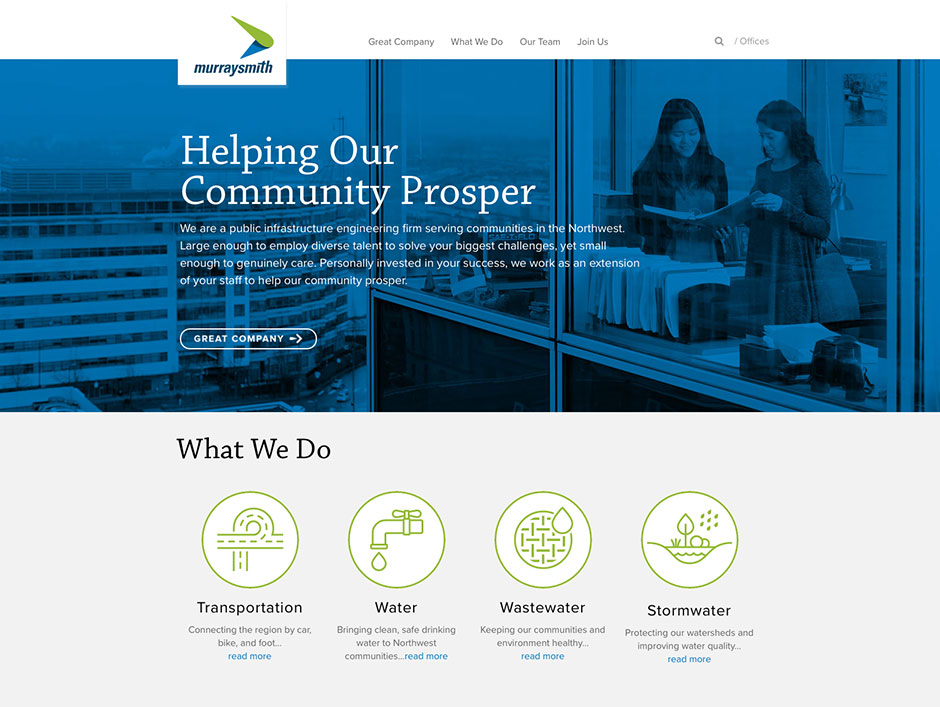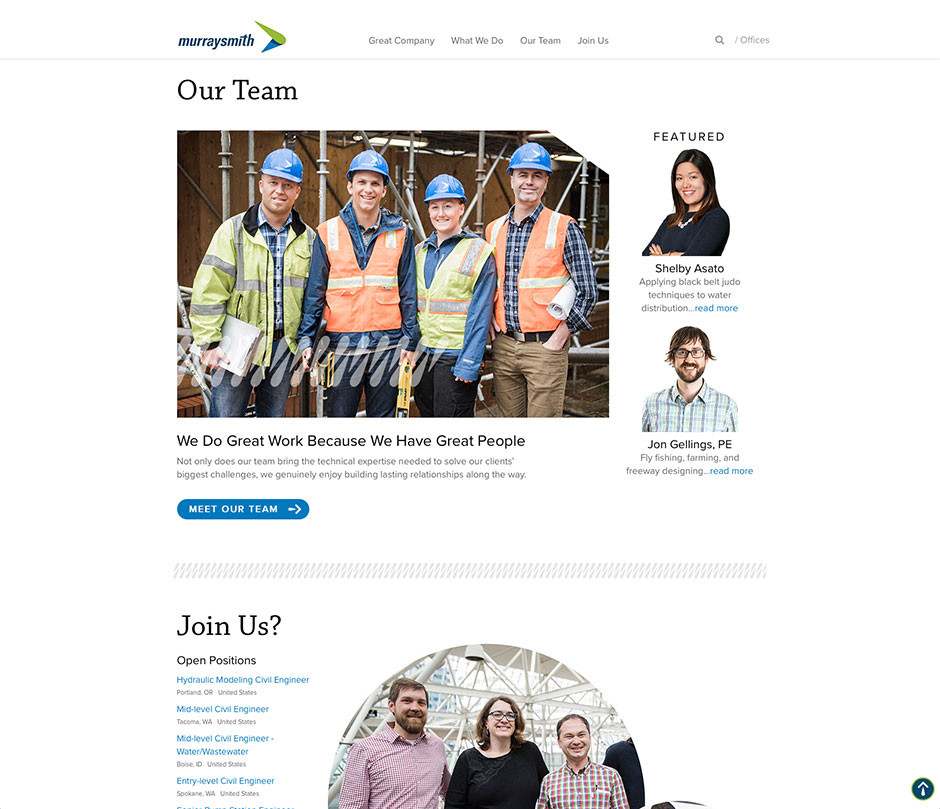 Using graphic design, color, and typography the new site reflects the new Core Values, 3 Uniques, and Brand Personality. Fresh, custom photography by KLiK demonstrates that Murraysmith is a fun place to work. Featuring responsive design, the site responds to screen size to provide an optimum user experience on desktop monitors, tablets, and smart phones. The main navigation (top of every page) is simple, with only four buttons and a powerful search feature to find anything within the site. As the user scrolls down the page, the main navigation "sticks" to the top of the page to avoid having to scroll up and down. The footer (bottom) of every page contains a Site Map listing all pages within the site to help users find exactly what they are looking for, and discover something new. Here are a few key features of the site, by section:
Great Company – Contains a custom designed overview infographic, Culture, News and a page for each of our eight offices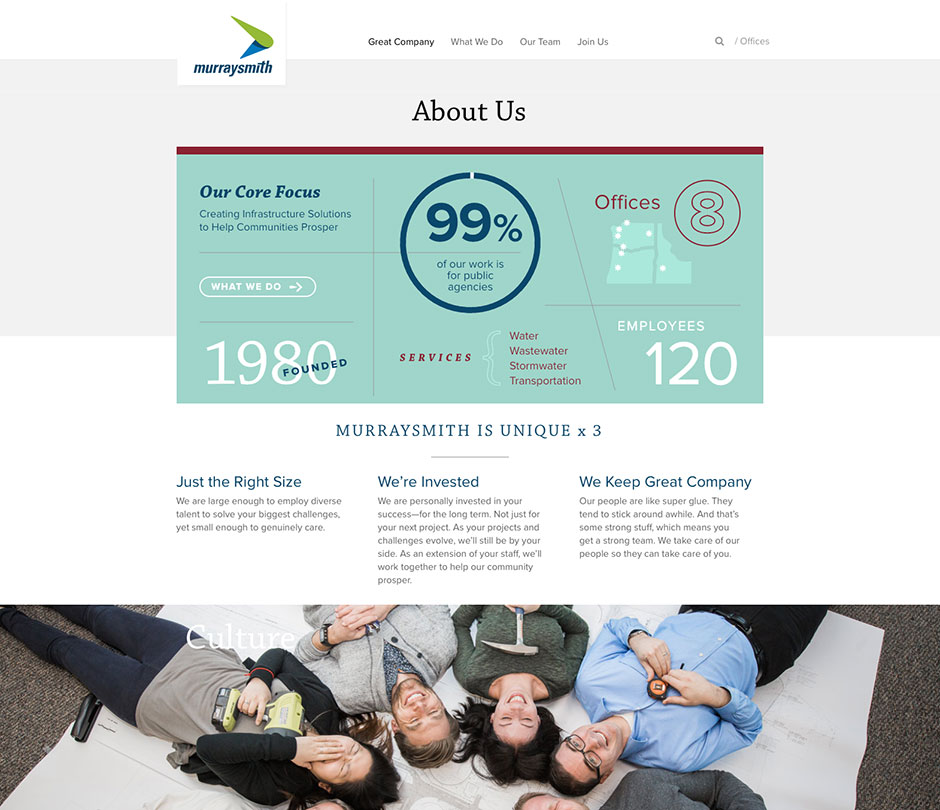 What We Do – Features our four services, each represented by a new icon. Six "hero" projects for all four services are displayed prominently.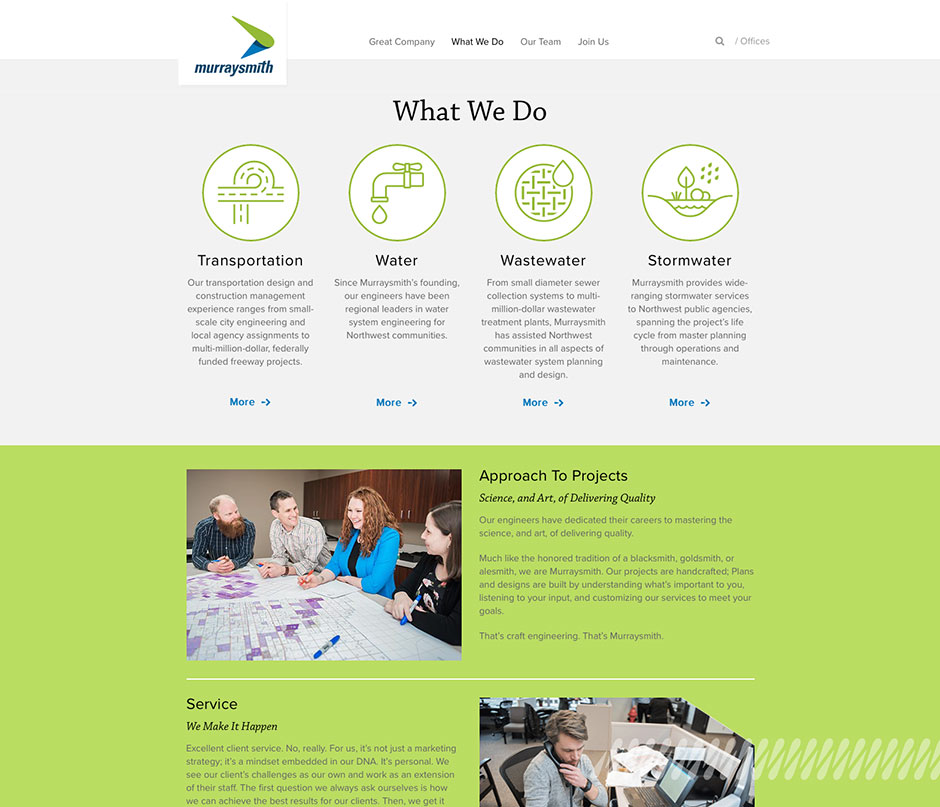 Our Team – Since We Keep Great Company, all 129 Murraysmith employees have their own page on the new site.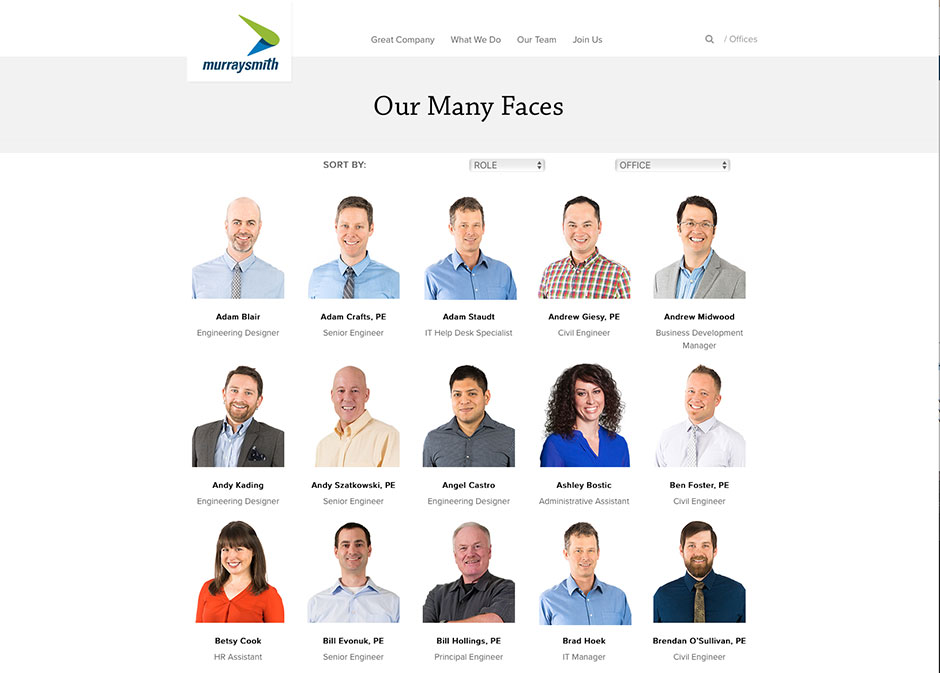 Join Us – True to our original reason for rebranding, to attract great talent, the "˜Join Us' section contains useful information. Potential hires can learn about our application process, the work we do, our 3 uniques, diversity, why work here, benefits, our 8 locations, and of course, job openings.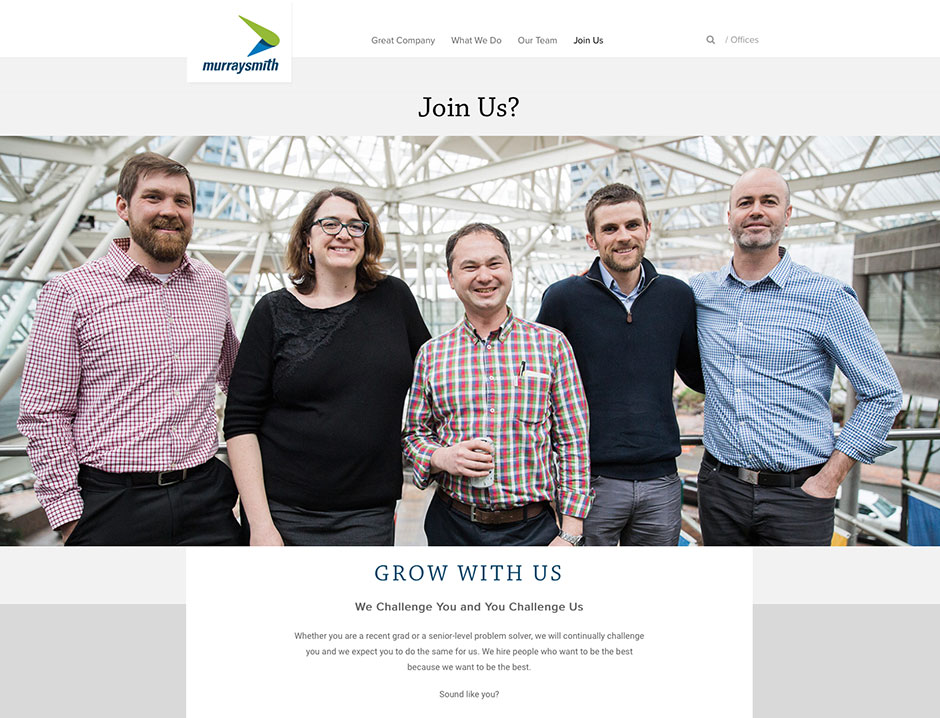 Website photograpy by KLik
---
Tradeshow Booth
The tradeshow booth is designed as a simple and bold brand background to complement the human activity in the foreground. The booth is imaginative (less is more) and relatable. It utilizes bright, optimistic colors to attract. Instead of the bullet point lists and small project photos of our previous booth, we prefer to let our people in the booth tell our story.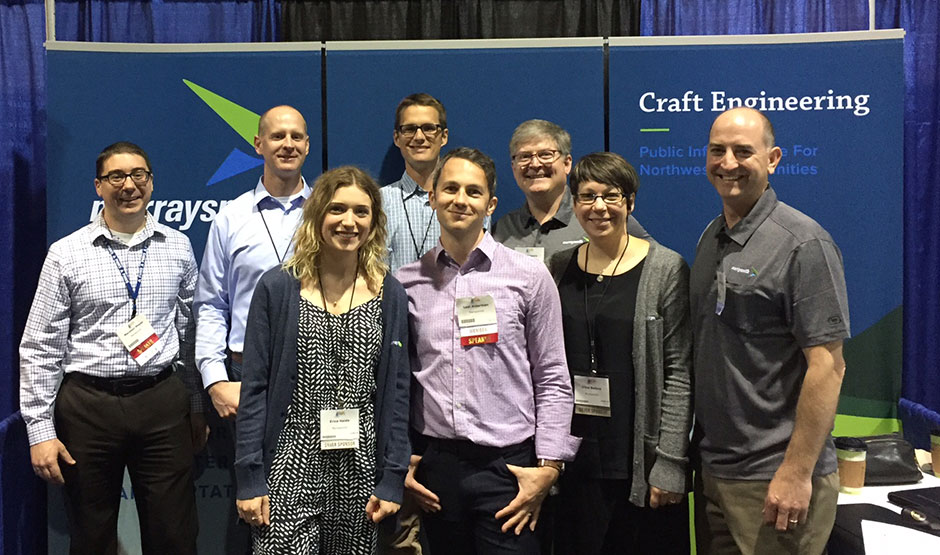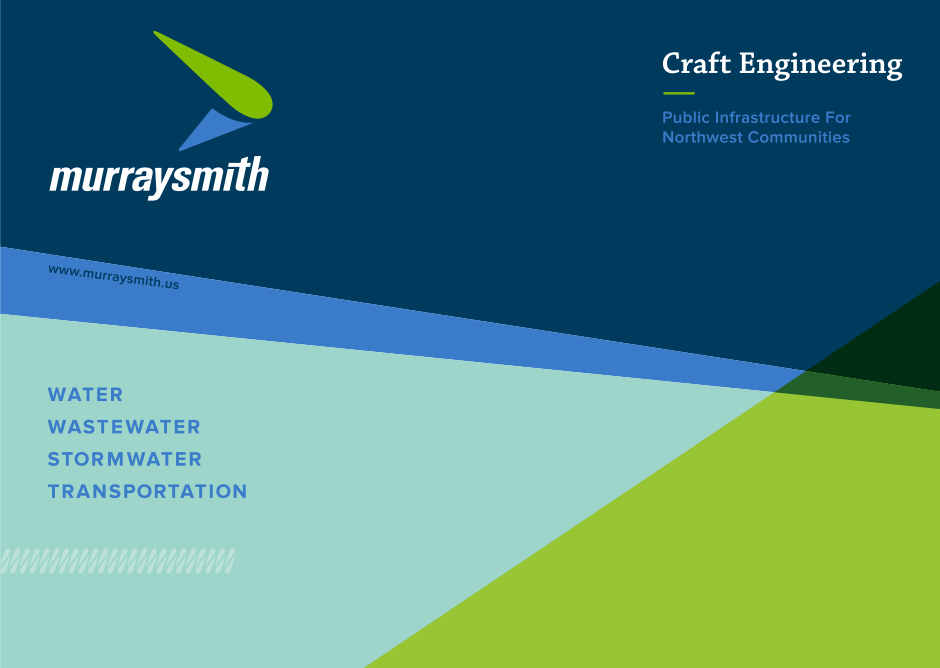 ---
Print Advertising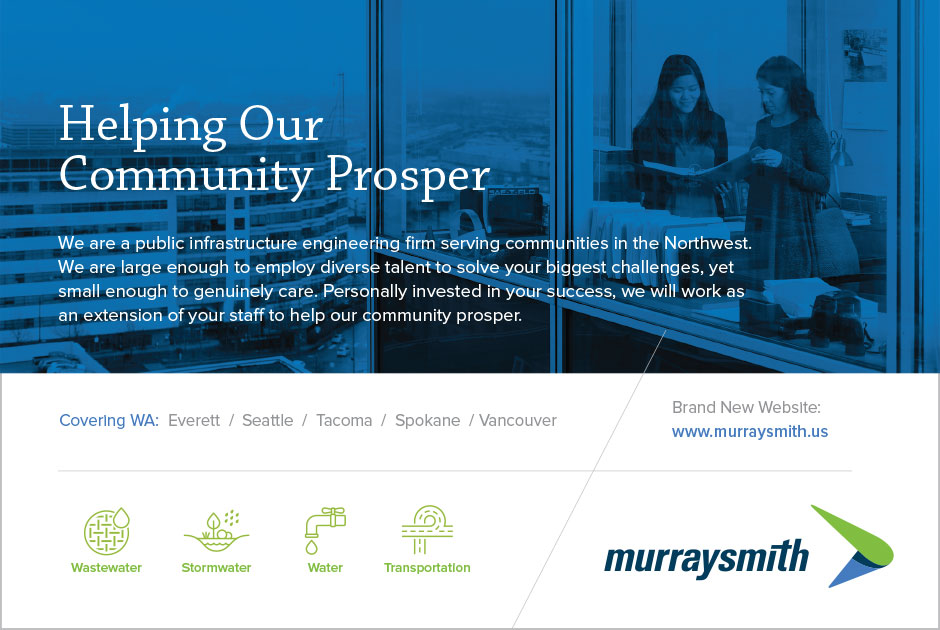 ---
Brand Style Guide
The Murraysmith Marketing Department appreciates the Brand Style Guide because it helps maintain consistency across the eight offices. It also transfers the brand elements and their guidelines, empowering the marketing department to take ownership of the brand for ongoing communication needs.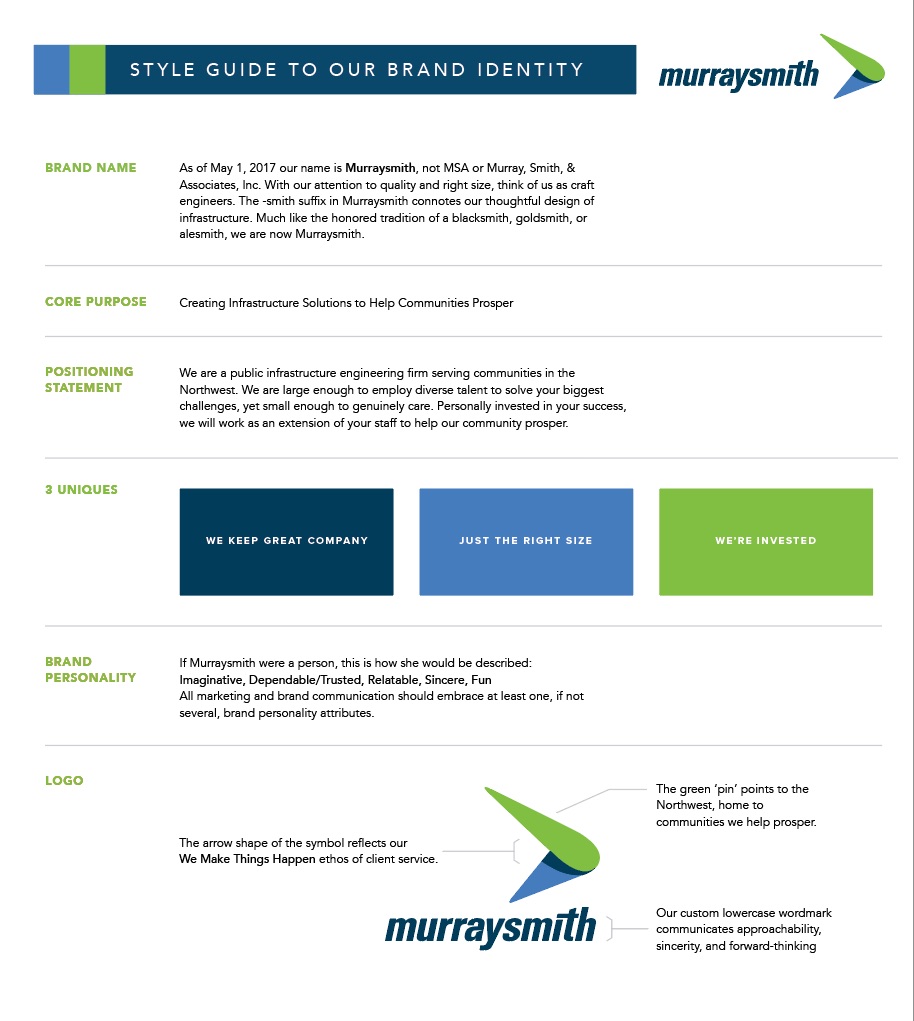 Internal Launch
An often overlooked, but critical, component of launching a rebrand is first building support within the firm. Having an entire firm of brand ambassadors to evangelize the firm's message is considerably more effective than the marketing department working alone.
2.5 Months Until Launch
Two and half months prior to the May 1 launch date, I fly to Portland to present at an all firm meeting. Employees travel from all eight offices to take part in a half-day Strategic Plan Update. The Marketing Department and I are onstage in an auditorium sharing the why and how of our rebranding project to date. We present the brand strategy and unveil the new logo and website preview to the entire firm. Change is scary and we know that not everyone will instantly love the new branding. But we ask everyone to trust the experts and prioritize the good of the firm over their personal opinion.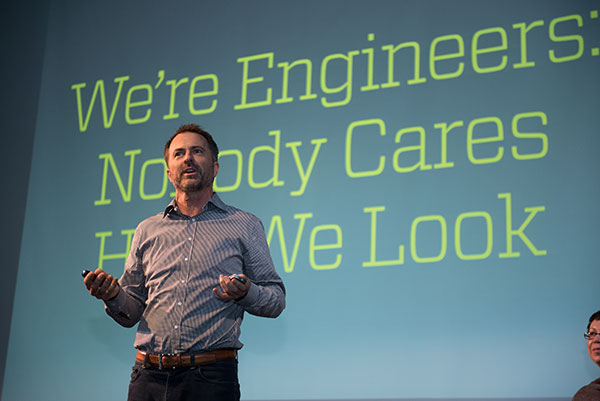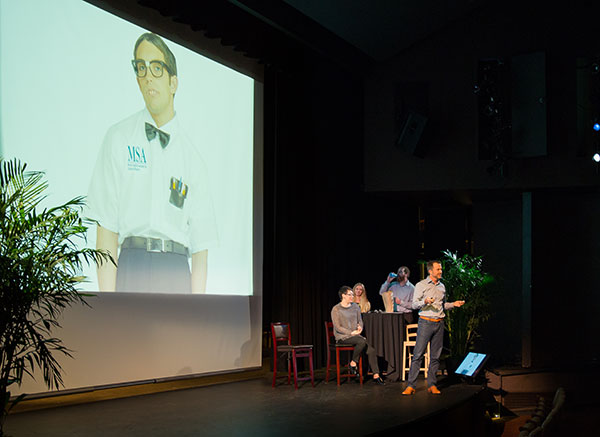 5 Days Until Launch
For the five days prior to May 1, a daily email is sent to employees preparing them for the rebrand launch. This 5…4…3…2…1…launch approach allows us to answer frequently asked questions and re-engage the entire firm as brand ambassadors. The emails are timed to coincide with the distribution of new business cards and other marketing collateral. Organized as FAQ, here are some sample questions we answer:
Why did we rebrand?
Why do brands matter, can't we just do great work?
As of May 1, what will be new about our firm?
What can I do to support the rebrand launch?
Where do I get the new logo files?
What do I do with my old business cards and collateral with the old logo?
What do I have to do to use my new email address and signature?
How is the rebrand being communicated to our clients?
On May 1, do I do anything differently?
External Launch
On May 1, past and present clients receive an email explaining the rebrand. The email contains an important call-to-action button to view the new website
Rebrand Launch Postcard
To reinforce the email message, we mail the postcard below to past and present clients.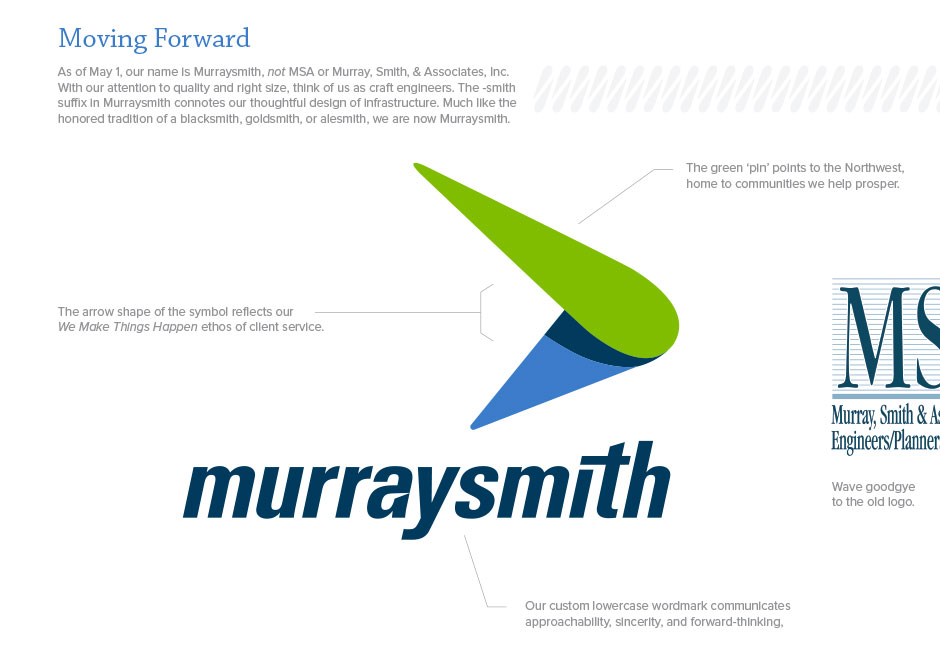 ---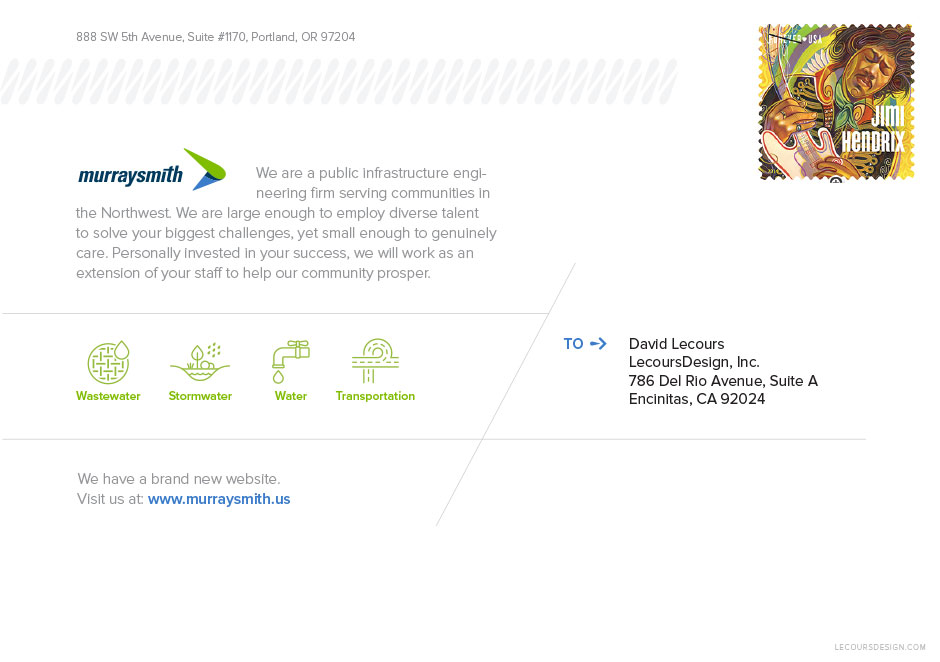 ---
Outcomes
The Murraysmith rebrand launched May 1.
Staff Growth
9 months prior to rebrand: +12 employees (net)
9 months after rebrand: +30 employees (net)
Staff Retention
9 months prior to rebrand: 88%
9 months after rebrand: 94%
"The new website is the most important recruiting tool we have. Every candidate we talk with at career fairs and interviews mentions how impressive our website is and how they are excited to join the culture that is reflected on the site. In January, 3 of 10 people hired sought us out because of our website. It makes my job easier."
""Murraysmith Human Resources
Business Growth
Gross revenue: + 30% since rebrand (9 months)
Earnings: + 42.5% since rebrand (9 months)
+12 new clients since rebrand (9 months)
Digital Marketing
Launch An­nounce­ment: 50.1% Open Rate vs. 15.3% In­dus­try Av­er­age
24.5% Click Rate vs. 1.9% In­dus­try Av­er­age
14,000 website visits in first week vs. goal of 2500
LinkedIn company page followers: + 32% since rebrand (9 months)
"Marketing team, I have been a part of four rebranding efforts at other firms. All involved a rollout to offices and clients around the country. I can say that your work has resulted in the smoothest and best-communicated rollout I've seen. It really does reflect our core values, and positions Murraysmith as the company of choice."
""Murraysmith Principal
Recognition
LecoursDesign/Murraysmith were honored for three national awards at the 2018 SMPS Marketing Communications Awards (MCAs): best rebrand, best website, best recruiting/retention promotion.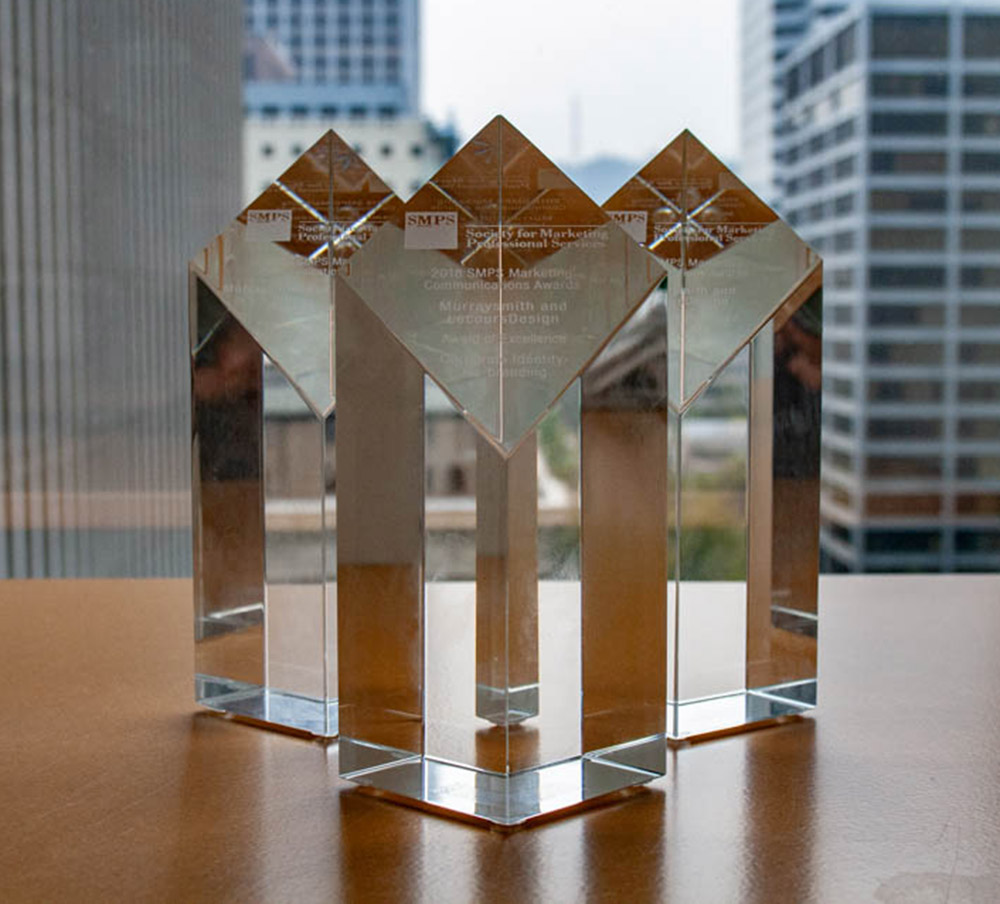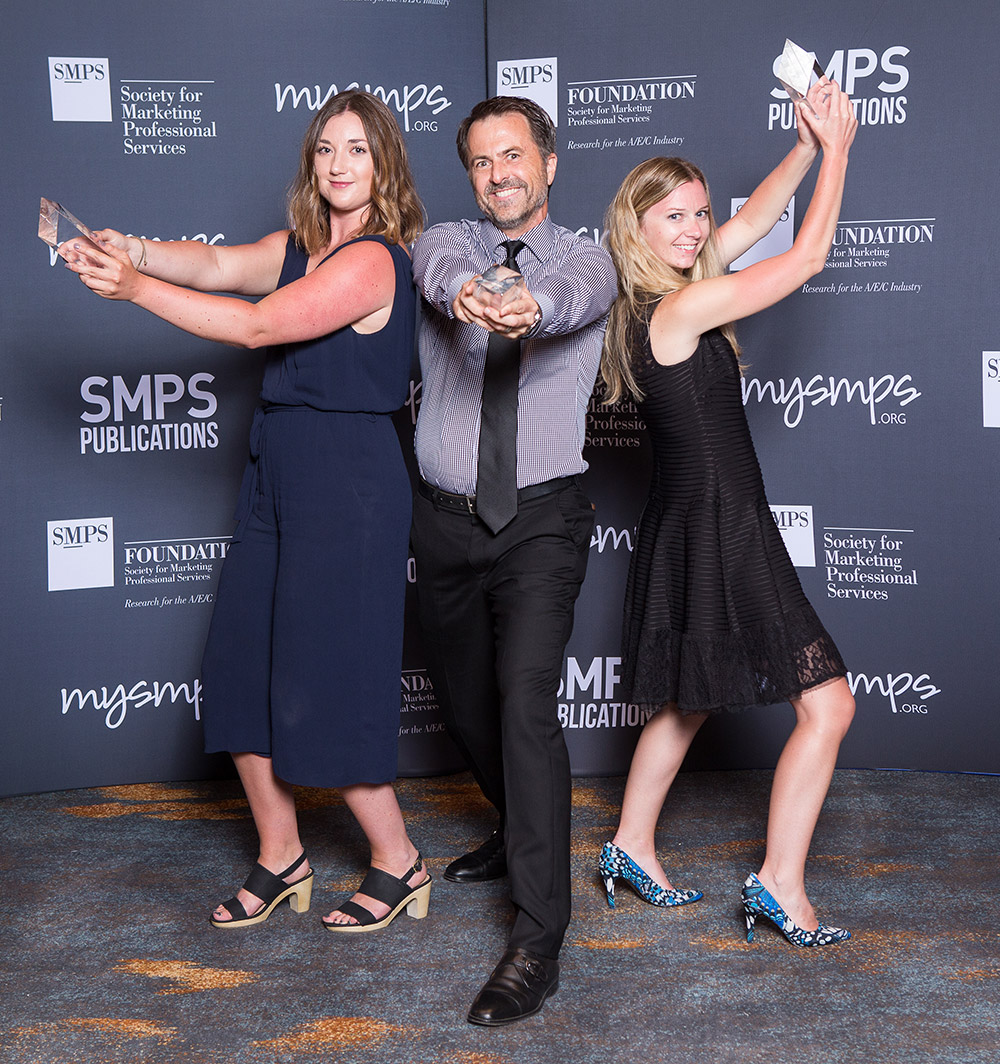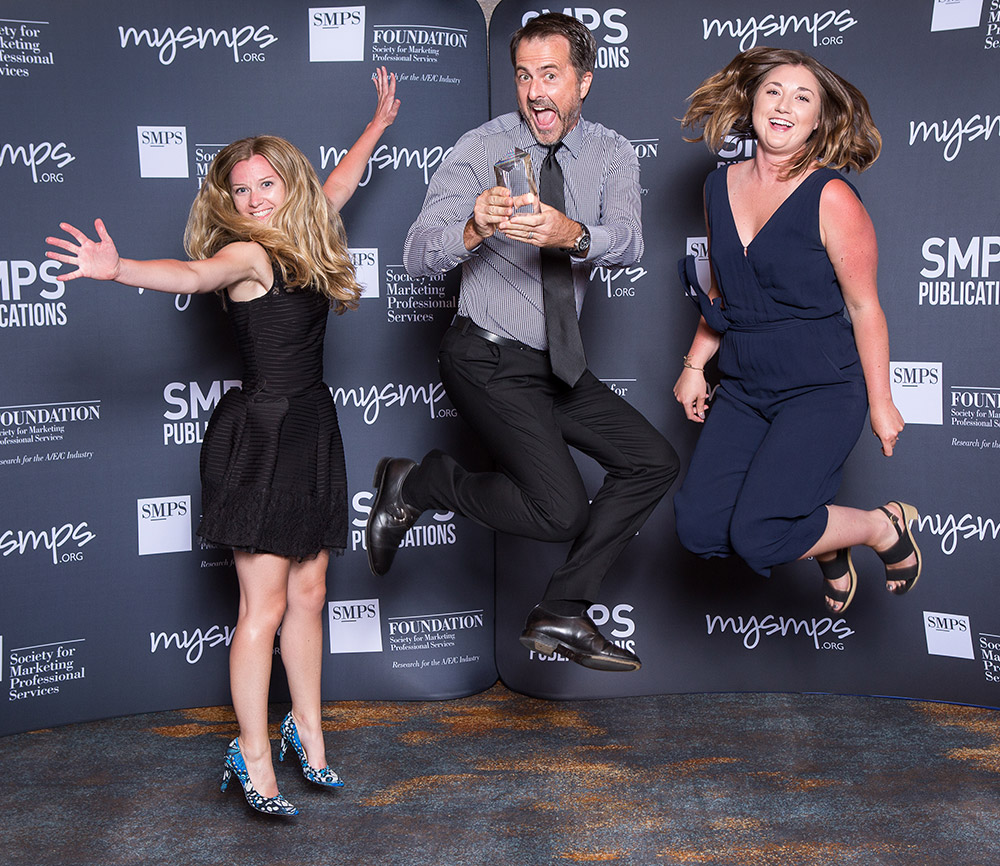 "The website and rebranding is fresh and unique." Great research and planning, tied nicely to strategic plan! They clearly set out to rebrand their website as a recruitment/retention tool""did a good job at each stage. Outstanding results!"

""MCA Juror
---
Services For This Project
Strategy – Core Values, Positioning, 3 Uniques, Launch Consulting
Branding – Personality Attributes, Naming, Visual Identity (Logo), Style Guide
Web & Digital – Website, Email Marketing
Print – Tradeshow Booth, Postcard, Advertising, SOQ Package Template, Project Report Template, Stationery & Forms
SaveSave
SaveSave
SaveSave
SaveSave
SaveSave
SaveSave
SaveSave
SaveSave
SaveSave
SaveSave
SaveSave
SaveSave
SaveSave
SaveSave
SaveSave
SaveSaveSaveSave
SaveSave
SaveSave
SaveSave
SaveSave
SaveSave
SaveSaveSaveSave
SaveSave
SaveSave
SaveSave