---
Online Video Training
---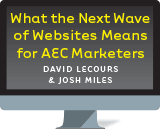 Surfing Lessons: What The Next Wave of Websites Means for AEC Marketers
Video of the highest rated training session at SMPS Pacific Regional Conference: The Wave
Real-life surfer David Lecours joins Midwesterner and surf-poseur Josh Miles for a highly interactive surf session about the latest in websites, and what they mean for AEC marketers. A few years ago, firms could get by with brochure-style websites. Today the waves are bigger, and the competition is tougher. How do you make the most of your ride, and stand out from the competition?
Surf instructors David and Josh share their experiences working with dozens of AEC firms to create award-winning websites. Not just pretty websites""but powerful business development tools, capable of generating leads and nurturing prospects throughout the sales tube. Hear the latest trends in digital marketing, responsive, mobile-ready websites, SEO, and more.
Instructors: David Lecours & Josh Miles
Duration: 1hour 24 min.
Resolution: High Definition 720p
Online Video
$99.oo per site* 
---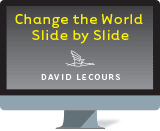 Change The World Slide by Slide
How To Develop, Design and Deliver Slide Presentations Like a Pro Training Video
This videotaped training seminar is for anyone wanting to improve their slide presentations. This is NOT software training for PowerPoint, Keynote, or Prezi. It is about the art & science of presenting persuasively with any slide software.
Instructor: David Lecours
Duration: 1hour 50 min.
Resolution: High Definition 720p
Online Video
$99.oo per site* 
---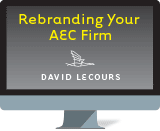 Rebranding Your AEC Firm: What, When & How
Archived National Webinar for Society for Marketing Professional Services (SMPS)
Rebranding is not a panacea. But done well, it can energize a tired brand. All A/E/C firm brands go through a life cycle. So it's nearly guaranteed that, at some point in your career as a firm owner or marketer, your firm will go through a rebrand. From gaining Board of Directors' approval, to budgeting, managing the process, managing expectations, and rolling it out, this can be a delicate process. Just ask Yahoo, The Gap, and UPS.
This video will help you:
Assess why (or why not), and when, a firm should consider rebranding
Clarify the confusion among rebranding, refreshing, and simply designing an anniversary logo
Navigate the process and allocate the resources (time and budget) required for a successful rebrand
Evaluate the pros and cons of hiring an outside consultant
Gain a realistic expectation of the ROI of a rebrand
Instructor: David Lecours
Duration: 1hour 36 min.
Resolution: High Definition 720p
Compare to SMPS National price: $179 members / $239 non-members
Online Video
$99.oo per site* 
---
Payment
Online Payment Preferred: Visa, Mastercard, American Express, Discover, and PayPal
Credit Cards are processed through PayPal, but DO NOT require a PayPal account.
Upon payment, you will receive an email with the private link to the online video.
*per site means you can train everyone in your office for one fee.
Checks made out to: LecoursDesign, Inc.
Mail to: LecoursDesign Video Training
786 Del Rio Avenue, Suite A, Encinitas, CA 92024
Questions? Email Us
---