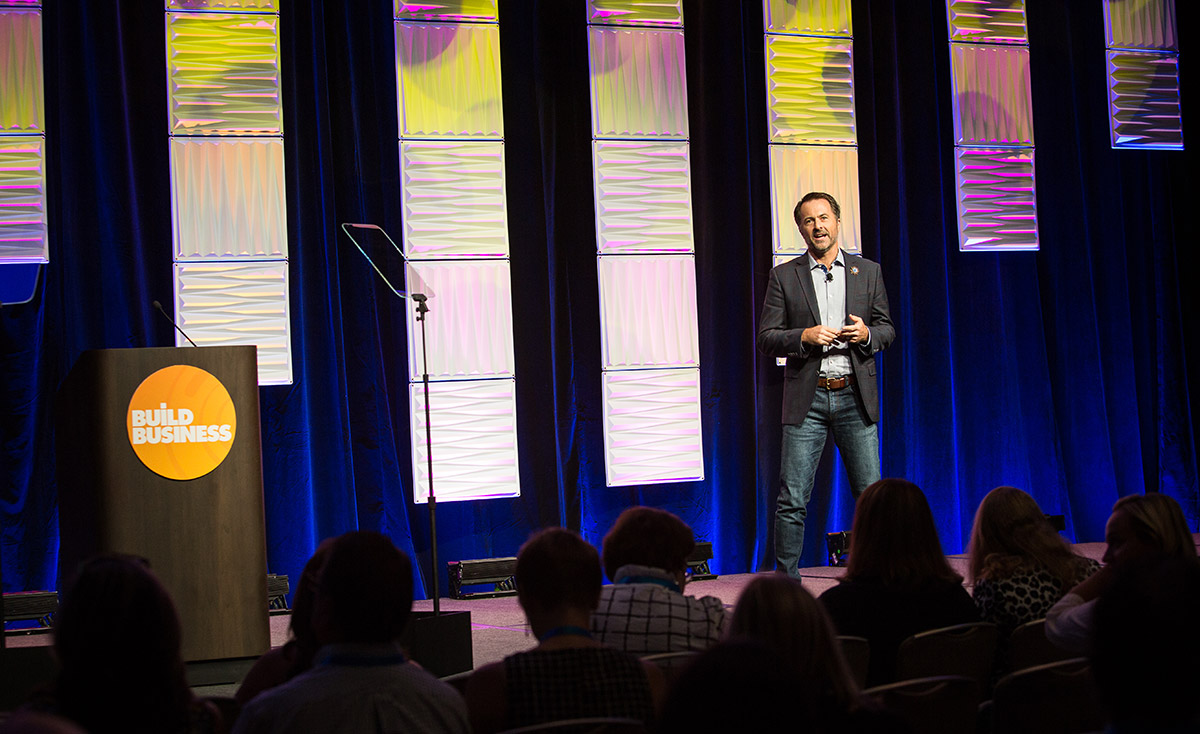 SaveSave
Hire David To Speak At Your Event
In addition to consulting, David Lecours gets hired to speak on culture, branding, story, infographics, creativity, and presenting with slides.
While highly entertaining, David's sessions also inform and educate. Growing up with a first-grade teacher as a mother, David communicates in a way that's easy to understand, and fun.
David speaks at conferences and private A/E/C firm engagements. Training sessions range from 90 minutes to 3 hours with topics listed below. Speaking is typically a 50-minute keynote address.
Fees
$3000–$5000 + travel expenses

SaveSave
Topics
Three Stories A/E/C Marketers Must Master
Thriving A/E/C Marketers embrace the power of narrative to win new business and attract great talent. You need to clearly and succinctly tell your firm's story when talking with prospective teaming partners, clients and employee recruits. Story creates an emotional connection with potential clients that will separate your firm from the herd. Harnessing the power of story in your projects, interviews, biographies and websites is essential to winning new work.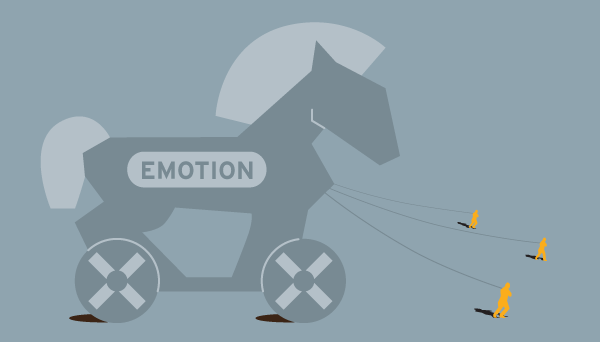 Attendees Will Learn
What is Story, and why does it work as a persuasive tool

To Move your listener's hearts, and their feet and wallet will follow

The essential structure of a compelling story

The fundamentals of good storytelling "" delivery is a learned process

The 3 stories you must tell masterfully
---
Change The World Slide by Slide:
How To Develop, Design and Deliver Slide Presentations Like a Pro
You've got a presentation interview coming up that could change the history of your firm. You want to persuade, inform and entertain your audience with a presentation that changes the world. Or, maybe just your world. Note that this is NOT a training session about Powerpoint software. It is a seminar about timeless principles of effective visual storytelling to help you and your firm win new business.

Attendees Will Learn
How to Avoid Death by PowerPoint

The Presentation Secrets of Steve Jobs

Where to Find Great Photography and Illustration

Graphic Design Principles: Color, Fonts, Backgrounds, Balance, Hierarchy

How to Use a Confidence Monitor So You Don't Have to Memorize Your Presentation

The Power of Multimedia+ Motion: How To Use Builds, Transitions, Video, Delivery Tools, Techniques and Stagecraft

How To Write Memorable Content
---
Become a Creative Superhero: How To Generate Ideas To Help Your Firm Stand Out
Creative ideas are essential to distinguish your firm from your competitors. But creative ideas don't just magically appear like superheroes. Even if you consider yourself creative, you can learn to boost your creative output. Drawing upon lessons learned from archetypal superheroes, you will refine your own creative process to generate breakthrough ideas and "leap tall buildings in a single bound." You will put theory into action by designing a superhero supersuit (no drawing skills necessary).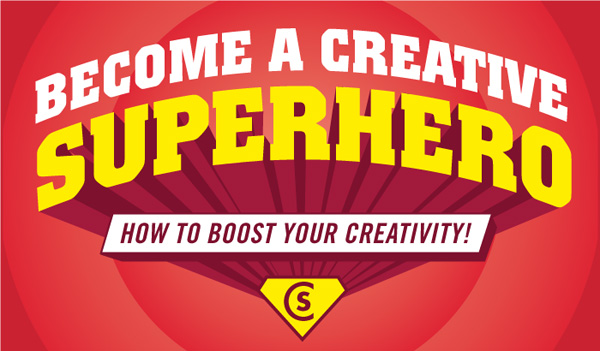 Attendees Will Learn
Why right-brainers will rule the future

To increase your creative output

Importance of ritual

Creative catalysts and overcoming creative kryptonite (blocks)

Individual and Group Brainstorming techniques

How to deliver ideas that get approved
Photos from recent How To Become a Creative Superhero training session.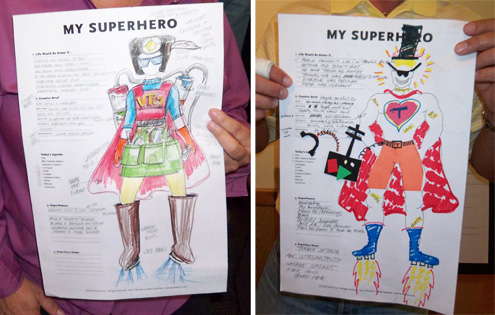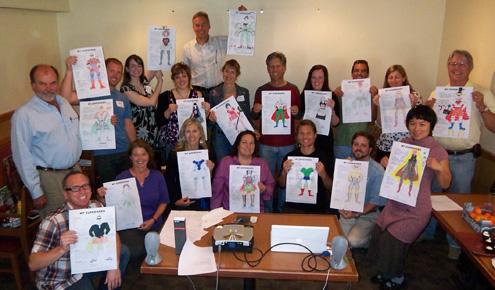 ---
Training Testimonials
"To say that I found your "Changing the World Slide by Slide" training seminar enlightening would be putting it mildly. Most of our professional lives are peppered with PowerPoint presentations. As a curator of PechaKucha Night San Diego presentation series, I have witnessed more than my fair share. I know which ones have resonated, but this concise and informative seminar helped me understand WHY some do, and some don't. Down to the detail, it all made so much sense, and as a result not only do I view presentations differently, but I immediately changed some of my own questionable presentation practices. Can't thank you enough!"
–Leslee Schaffer, Executive Director, San Diego Architectural Foundation
"You did such an amazing job last Friday with your seminar. I left feeling so inspired and excited to use my new creative knowledge. There was great information packed into every minute of your presentation and my attention never waivered. I couldn't believe how fast the two hours flew by. Thank you for sharing your expertise!!"
–Lisa Jarret, Ferguson Pape Baldwin Architects
"Your seminar was compelling and inspiring—exactly what we needed in these tough economic times. Thank you for your careful preparation. I came away from your presentation with a renewed excitement for branding."
–Kamala Kuresman, U.S. Green Building Council
"I am a Professor of Biology at a top university, UCSD. I have been teaching undergraduate classes for 14 years and giving powerpoint seminars the world over for 12 years. I have been praised for the dynamic talks I give. One class with David Lecours totally changed my slide presentation. Not one slide stayed the same. And it has worked out for the best! David's seminar is fantastic and will improve your ability to connect and communicate with your audience. Whether you are a newcomer or a PowerPoint veteran like myself, David's class is great!"
–Raffi Aroian, Professor of Biology, UCSD and Founder, Wormfree World
"The Creative Superhero seminar was very good. You have a great way of looking at the topic and you express thoughts very well. Overall, it was inspiring. When I arrived back at the office, I was ready to tackle the sample project I started on during the session. Last night I had an idea come to me as I was making my way into bed. Thanks to your advise, a note pad was on the night stand and I made a note of the idea right away. Thanks for speaking to our SMPS chapter!"
–Kelly Michajlenko, Glumac
"I wanted to thank you because your presentation was so relevant to what I have been going through at work. I am managing our firm's website redesign process. I had been struggling with all the decision making that's involved, and I just couldn't seem to get anything done. After attending your presentation I realized that the only way I could make any progress is if I was able to stop multitasking and really dedicate a full day to the creative process. I even put a bunch of print screens with ideas and task breakdowns up on one of our walls at the office! I wanted to let you know that you really made an impression."
–Rachel Emme, Roesling Nakamura Terada Architects