Murraysmith: Won Best Website at SMPS Marketing Communication Awards
/ SERVICES
Discovery & Recommendations
Strategy
Brand Foundation
Voice & Messaging
Brand Identity
Print Collateral
Digital Marketing
Website Design & Development
/ OBJECTIVE
After speaking at the SMPS Pacific Regional Conference in Portland, David was approached by Irina, the marketing director at Murray, Smith & Associates, Inc. (MSA), a nine-office, 155-person civil engineering firm in the Northwest. Handing him her business card, she confessed,
I know, we need your help.
/ IDEA
While MSA marketing team members understood the value of branding, several owners were reluctant to invest in a rebrand. Business was strong and memories of a failed attempt at DIY rebranding and a false start with a consultant unfamiliar with A/E/C marketing lingered.
To help MSA make an informed decision, we proposed the firm commit only to the Discovery Phase, including a review of its strategic plan, a brand audit rating 75 brand touchpoints, personal interviews with recent hires, and a competitive audit.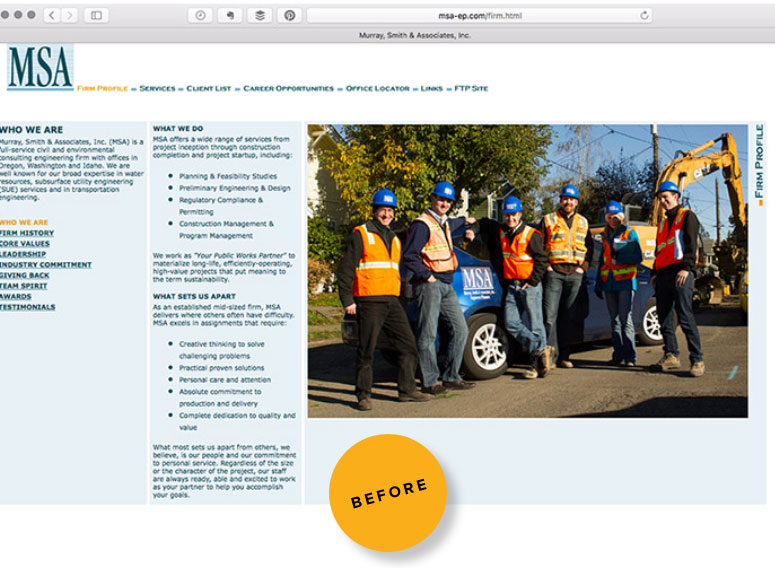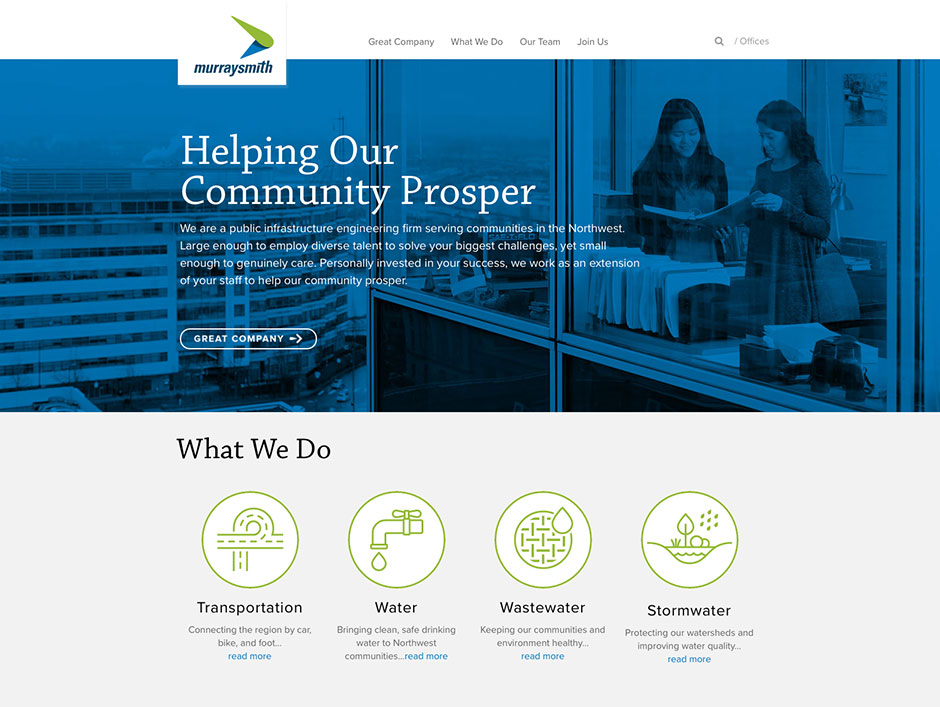 Results

9 months before website launch vs. 9 months after
Increase in staff retention
Increase in LinkedIn followers
Unique site visitors in 1 week (goal: 2500)
The new website is the most important recruiting tool we have. Every candidate we talk with at career fairs and interviews mentions how impressive our website is and how they are excited to join the culture that is reflected on the site. In January, three out of 10 people hired sought us out because of our website. It makes my job easier."
–Murraysmith HR Director
Increase in gross revenue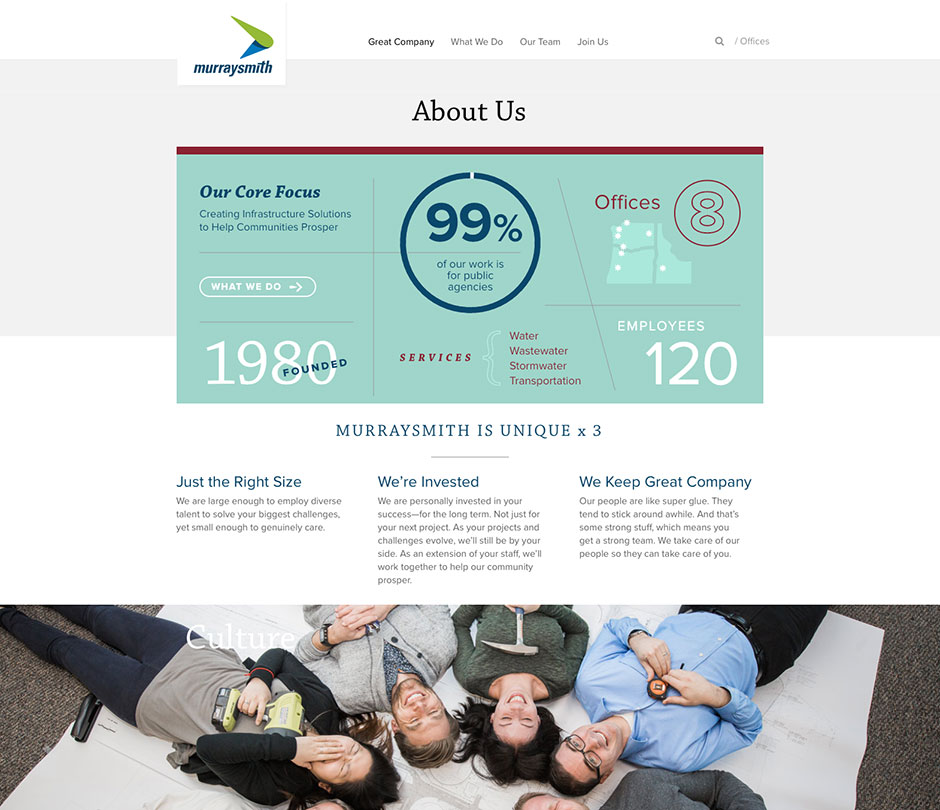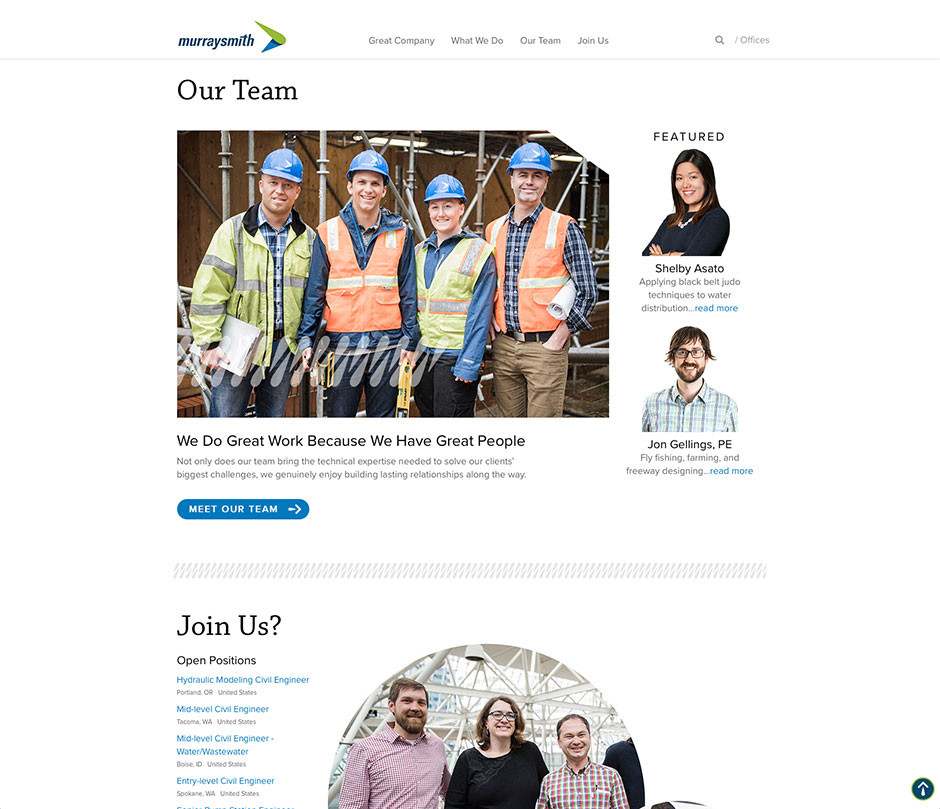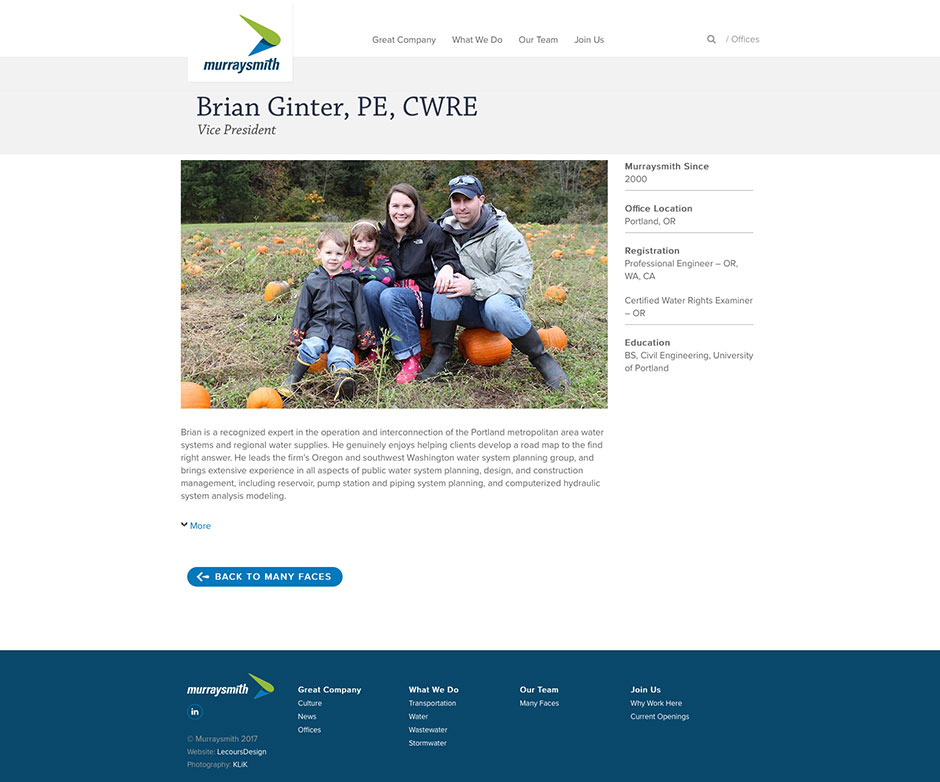 Current Site Repels Talent
When a recent hire declared, "If I were choosing a firm solely based on its website, I would never work here," it was clearly time for a new site.
The existing site didn't effectively convey the firm's culture. Though there were lots of facts, it lacked emotional appeal. Small, dated images and an awkward navigation system contributed to a poor user experience. And the site wasn't optimized for mobile and tablet users.
Primary Goal: the new site is to attract talent by showing what it's like to work at Murraysmith.
Site Updates Are Impossible
Since the site was hard-coded without the use of a content management system (CMS), nobody within the firm could make updates. As a result, fresh content that users value and Google rewards in search rankings was not being added.
Goal: Instead of updating the site every twenty years, allow staff to update the site daily. Build a custom site, then train staff on a fun-to-use content management system.

S T R A T E G Y, T H E N D E S I G N
The project began with a Discovery Phase that included an audit of the current 20-year-old site as well as several competitor websites to assess how MSA compares in the digital landscape. This competitive audit revealed how much the site lacked in terms of modern website attributes.
Because a great website is rooted in brand strategy, we summarized the website strategy in a five-page strategic brief outlining the why, what, who (both users and internal resources), when and how of the new site.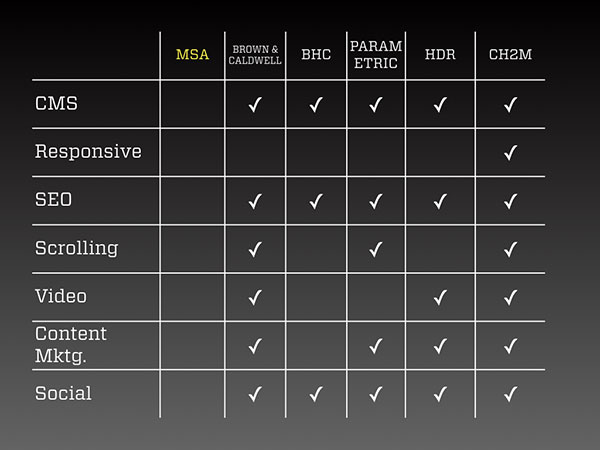 P O S I T I O N I N G S T A T E M E N T
From the strategic brief, we develop the positioning statement shown on the left.
It defines the firm type (engineering), who it serves (communities) and how it is unique (public infrastructure and we live where we work).
B R A N D P E R S O N A L I T Y
Before developing the new firm name and logo, we established five brand personality attributes to guide all future marketing communication materials and activities.
Imaginative
Dependable
Relatable
Sincere
Fun
U S E R P E R S O N A S
The primary goal of the new site was to attract talent by showcasing what it's like to work at Murraysmith. To ensure the site effectively communicated with prospective employees, we developed two fictitious user personas.
Ben, 36 Seeks a Sr. Civil Engineer Role
Unhappy with slow advancement at a global firm, he knows he could become a senior leader quickly at Murraysmith. He wants to get to know the firm leaders he would be working with and see some hero projects.
Katie, 22 Seeks Engineer-in-Training Role
About to graduate from Oregon State, she finds a blog post on the Murraysmith site titled "How to Interview at Engineering Firms." She wants to know if there are openings in her hometown of Boise, ID.
N E W D E S I G N A N D P H O T O G R A P H Y
Through graphic design, color and typography, the new site reflects the firm's new core values, unique attributes and brand personality. Fresh, custom photography by Klik, demonstrates that MurraySmith is a fun place to work. The site's responsive design provides an optimum user experience on desktop monitors, tablets and mobile devices. The main navigation at the top of each page is simple, with only four buttons and a powerful search feature. As users scroll down a page, the main navigation "sticks" to the top of the page to minimize scrolling. The footer of every page includes a sitemap to help users find exactly what they're looking for and discover something new.
E A S Y T O U P D A T E
A custom, fun-to-use content management system allows staff to quickly update the site on an ongoing basis.
N E W U R L
For simplicity, memorability and consistency with the new Murraysmith brand name, we recommended a new URL:
The previous URL, www.msa-ep.com, automatically redirects to the new site.
Recognition
LecoursDesign/Murraysmith earned the "best website" award at the 2018 SMPS Marketing Communications Awards.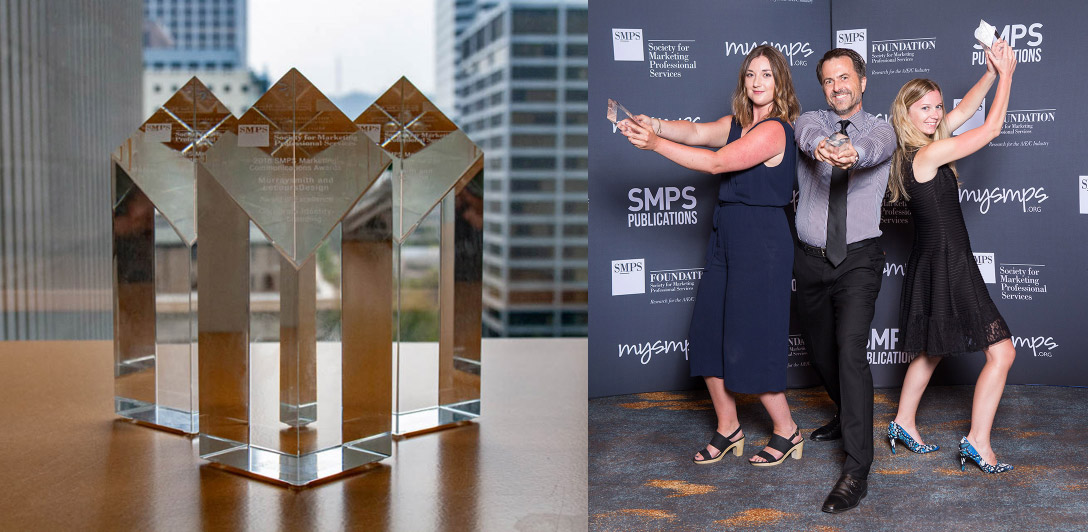 The web­site and rebrand­ing is fresh and unique. Great research and plan­ning, tied nice­ly to strate­gic plan! They clear­ly set out to rebrand their web­site as a recruitment/retention tool—did a good job at each stage. Out­stand­ing results!"
–Awards Juror