/ SERVICES
Discovery & Recommendations
Strategy
Brand Foundation
Voice & Messaging
Brand Identity
Print Collateral
Digital Marketing
Website Design & Development
/ AWARDS
SMPS MCA Awards:
✶ Best Rebrand
✶ Best Website
✶ Best Recruiting & Retention Promotion
/ BACKGROUND
After speaking at the SMPS Pacific Regional Conference in Portland, David was approached by Irina, the marketing director at Murray, Smith & Associates, Inc. (MSA), a nine-office, 155-person civil engineering firm in the Northwest. Handing him her business card, she confessed,
I know, we need your help.
/ CHALLENGE
While MSA marketing team members understood the value of branding, several owners were reluctant to invest in a rebrand. Business was strong and memories of a failed attempt at DIY rebranding and a false start with a consultant unfamiliar with A/E/C marketing lingered.
/ SOLUTION
To help MSA make an informed decision, we proposed the firm commit only to the Discovery Phase, including a review of its strategic plan, a brand audit rating 75 brand touchpoints, personal interviews with recent hires, and a competitive audit.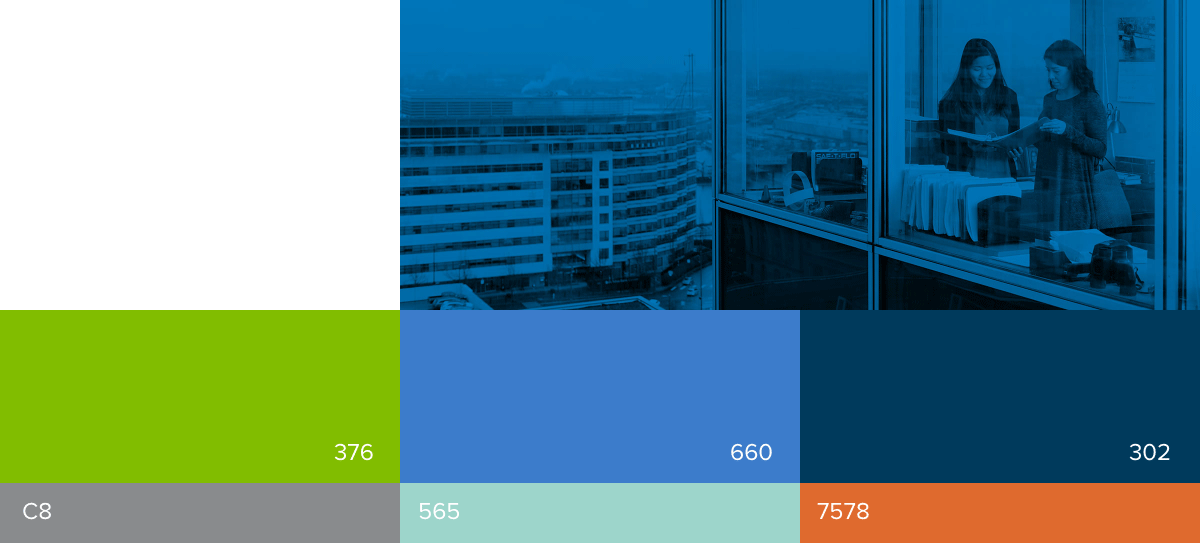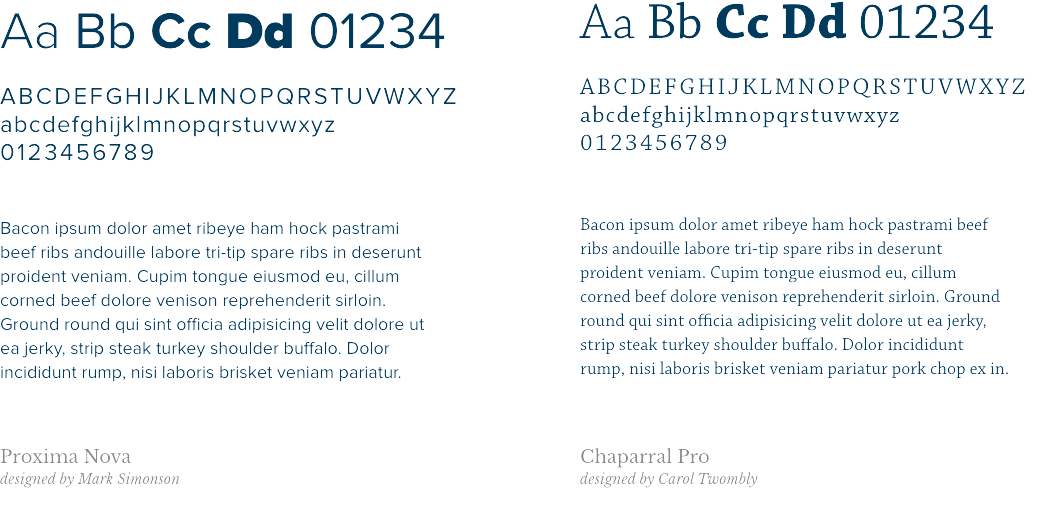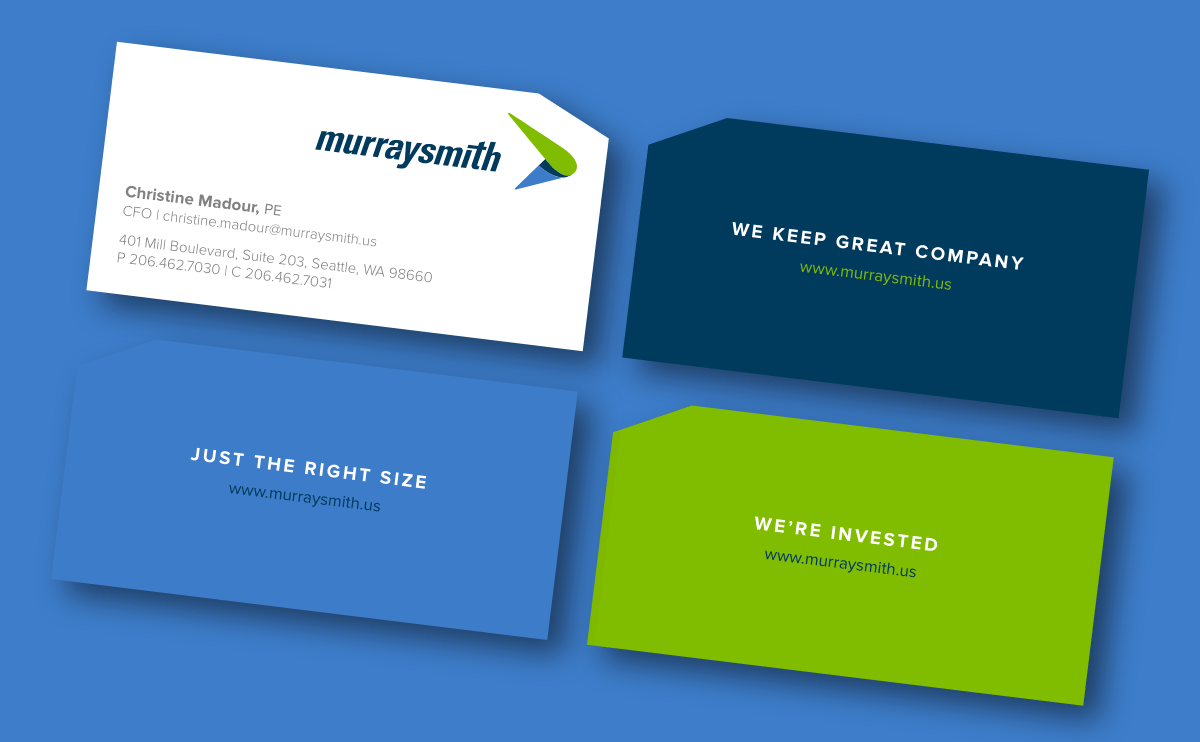 Brand foundation & messaging by LecoursDesign.
Imaginative

Fun

Dependable

Relateable

Sincere
/ THREE UNIQUES

Just the right size – We are large enough to employ diverse talent to solve your biggest challenges, yet small enough to genuinely care.
We're Invested – We live where we work; we take project success personally.
We keep great company – We take care of our people, so they can take care of you.
/ CORE VALUES

We workshopped seven core values, which we later expressed on craft beer coasters. Each coaster is letterpressed with a value on the front, and more detail about its meaning on the back.
We make it happen. (Service)
We invest in us. (Improvement)
Our work goes on the fridge. (Quality)
Multiple Minds > 1 (Collaboration)
Work that works for you. (Flexibility)
We Engineer Fun (Fun)
We Give a $#!T (Passion)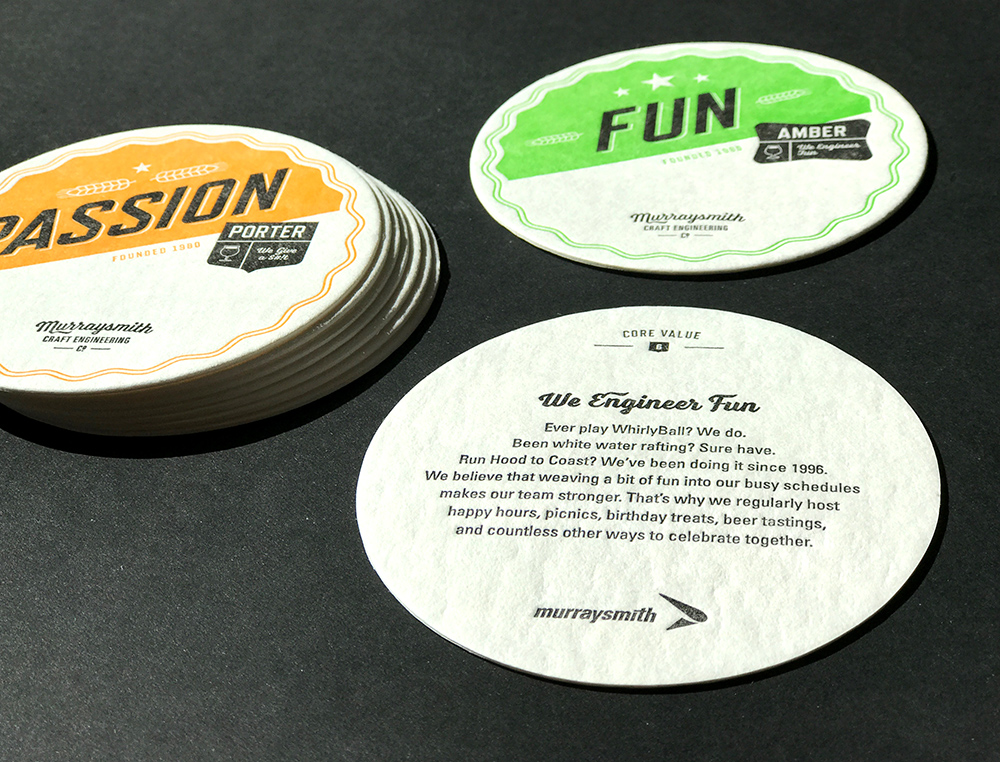 We are a public infrastucture engineering firm, crafting the communities we live in.
/ BEFORE REBRAND > BUSINESS CARD
Nine months after the rebrand, Murraysmith had a 

40% increase

in staff growth, a 

30% increase

in gross revenue, &

12+ new clients

.
Increase in Staff Retention
Increase in Project Hit Rate
"You always have been so fantastic in what you did for us; more so, the story behind Murraysmith and how you went about the process, and how we are able to align where we are going. The story, foundation, and process are more important than anything else. You are and have been amazing so it is easy to give you great recommendations."
–Chris Rayasam
Chief Executive Officer, Murraysmith