Discovery, Insights, and Recommendations
Clients often hire us and we don't design anything. They simply want strategic marketing advice. We start with a Discovery, Insights & Recommendations engagement. Clients receive strategic and practical recommendations delivered in a presentation, report or both. From there, we can help you develop a plan. You wouldn't create a building without a plan. You shouldn't run your business without a strategic plan and a marketing plan.  
---
Discovery, Insights & Recommendations Includes:
Historical Research
Client or Teaming Interviews
Employee Interviews
Strategic Plan Review
Marketing Plan Review
Brand Touchpoint Scoring
Competitive Audit
Top 10 Recommendations  
---
Strategy Case Story



To read our strategy case story with Murraysmith, click here.
---
Planning
We believe that all A/E//C firms should have a 3–5 year Strategic Plan and a 1-year Marketing Plan. We strongly believe that firms need to write these plans themselves, with guidance from a consultant, or they won't get implemented. For the same reason that doctors aren't allowed to operate on themselves (too painful/too much bias), we believe you need objective guidance through the strategic and marketing planning process. You can't read the label if you are inside the jar.
Strategic Plan
Purpose: why your firm exists
Vision: where your firm will be in 5 years
Values: how your firm will get there (core beliefs)
Target: who will join you (target market/s)
Positioning: why they will join you (unique value proposition)
SWOT Analysis
SMART Goals
Marketing Plan
Marketing Mix of proactive initiatives help you reach your SMART goals
Who in the firm will take responsibility for each marketing tactic
Budget
Timing
Dashboard for Measurement
Our A/E/C Firm Marketing illustration below shows the recommended strategy sequence.  Download the PDF
SaveSave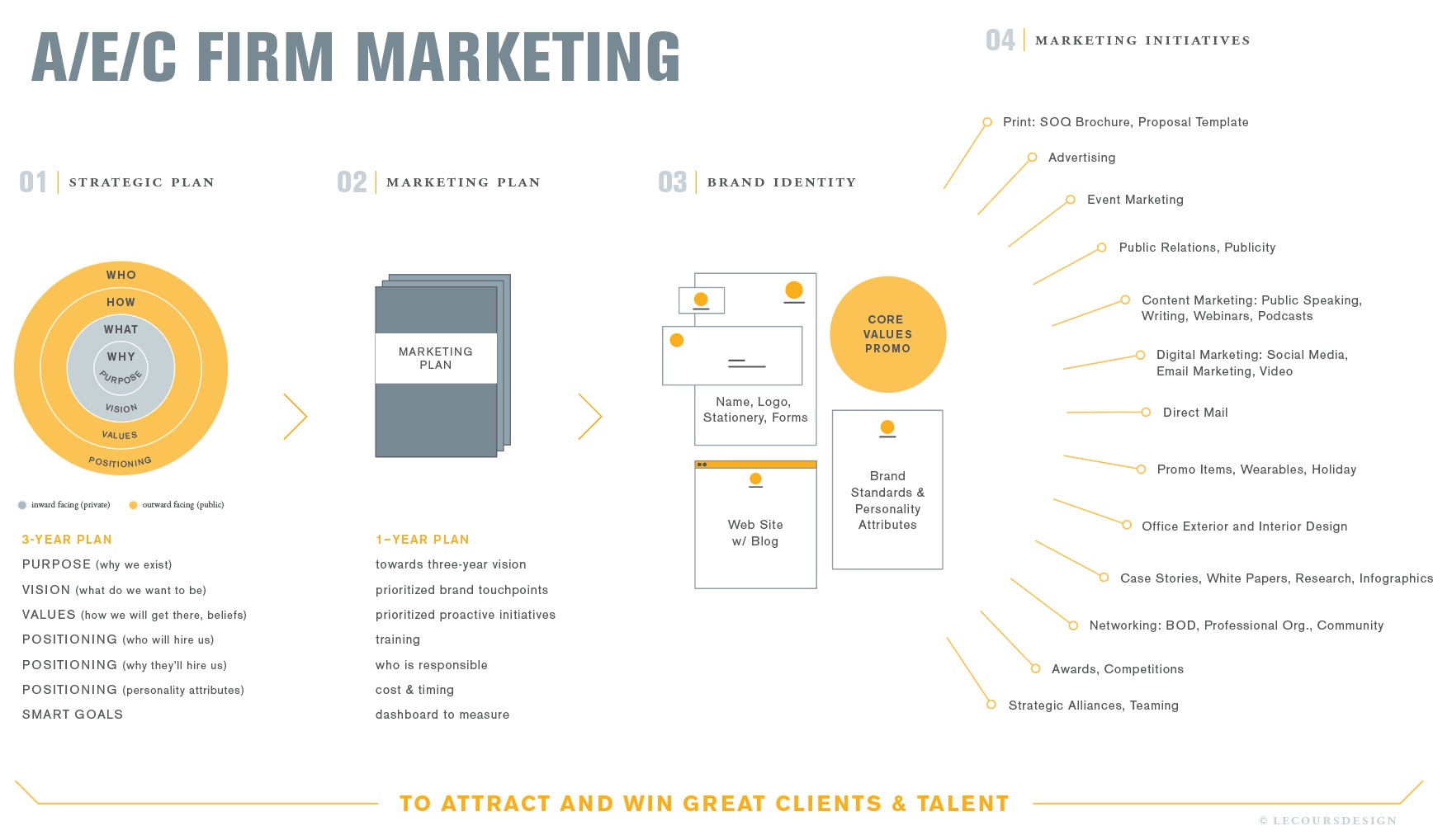 ---
Pricing
Our strategy services require a $15k minimum investment.
---