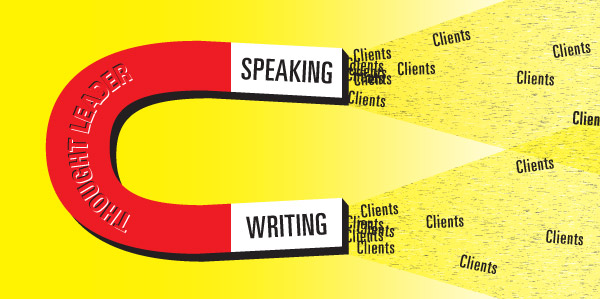 For those looking to stretch their marketing budget, I can't think of a more cost effective way to attract clients than Thought Leadership. The more a prospect can experience your thinking, writing or speaking, the more they perceive you as an expert, and the less "selling" you have to do. Content Marketing is effective for Thought Leaders because prospective clients can get to know, like and trust them in a no pressure, non-sales context. Here are some tips on how to position yourself, or Principals within your firm, as Thought Leaders.
1. Designate Ambassadors
Designate someone in your firm to be the Thought Leader for each market sector in which you seek work. For example, our client Aquatic Design Group is a market leader in designing and engineering competitive swimming pools (a market sector). They happen to have an Associate who is a former collegiate All-American swimmer. Combined with strong writing and speaking skills, he has instant credibility within this tribe.
2. Discover Where Your Audience Gathers
Ask your best clients which market specific trade publications they read and which conferences they attend. Then introduce yourself to the editors of these journals and offer your Thought Leader as a resource for journalists. Journalists constantly need credible references to interview for stories. Once the relationship is established, inquire about submitting an article or offering story leads. For national conference speaking opportunities, you'll need to respond to a RFP a year in advance. But there are plenty of local trade organizations hungry for great speakers. Your Thought Leader doesn't even need to speak. For example, I have put together panels and have emceed for SMPS, Pecha Kucha and USGBC events. This allows me to benefit from the halo effect of being onstage moderating the speaker panel. While it's tempting to write or speak to your peers (fellow professional service providers), remember to focus most of your efforts where potential clients, not competitors, congregate.
3. Create a Content Ecosystem
Start with writing to develop mastery in articulating your subject matter. Then move to speaking using content you've written about. Give away free samples of your knowledge. Leaders demonstrate confidence by sharing their abundant expertise, not hoarding it. Tell real success stories and don't be afraid to offer up your failures and share lessons learned. This is what makes you human, and will draw people to you. Communicate that you care about your audience's world and challenges, and you will be invited in.
Thought Leadership requires an investment of time. This guide should help you get started. Be sure to promote your speaking or writing using the power of Social Media. Also, find multiple channels to distribute your content to maximize ROI. For example, this blog post began as an email marketing letter. It has also been broken down into a series of tweets. It could be made into a short video or podcast.  Don't overlook print to distribute your writing. You can a create a 1-page printout of a relevant post to pass out at events where you attend or present.
Whether writing or speaking, Thought Leaders are perceived as experts. Clients like to hire expertise. What are some methods you have used to demonstrate expertise? How do you promote your Thought Leadership activities? Has it ever led to new business?