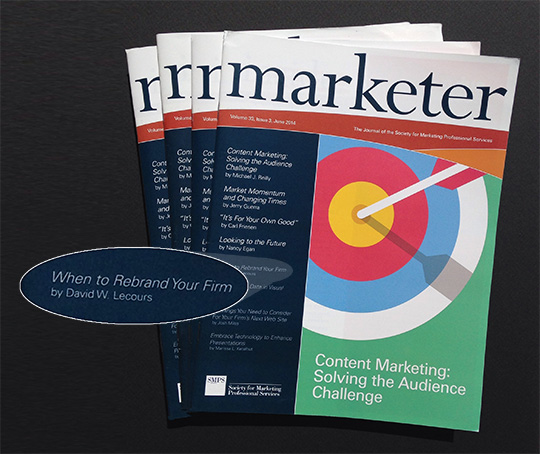 This post was originally published in the SMPS Marketer national magazine.
All living things go through a life cycle of birth, growth, maturity, decline and death. A/E/C firms endure similar life cycles, except that they can shortcut decline and death through reincarnation. If you prefer a more secular term, let's call it rebranding. But first, some clarity about the term "rebranding."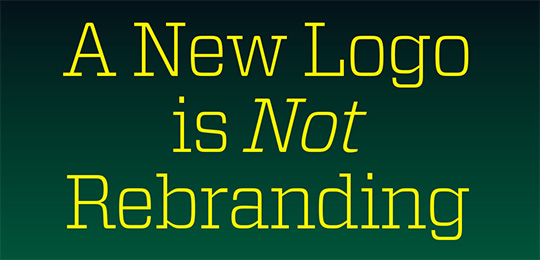 Your brand is not your logo. So, changing your logo is not rebranding. Changing the name of your firm is not rebranding. Your firm's logo and name are key elements of your brand identity, but don't define your entire brand. Rebranding is a new brand positioning that inspires a new name or logo. Brand positioning answers: what your firm does (services), who you do it for (target markets), and how your unique expertise benefits clients.
Firms struggle with knowing when to rebrand. Here are five scenarios that indicate it's time to consider rebranding.
1) Significant Change in Strategic Direction
Healthy firms deepen their expertise and capabilities to adapt to a continually changing world. This can lead to a decision to enter new markets or offer new services. After 3″"5 years, your firm may evolve significantly. When your firm is known for what it used to be, not what it aims to be, then it is time to rebrand.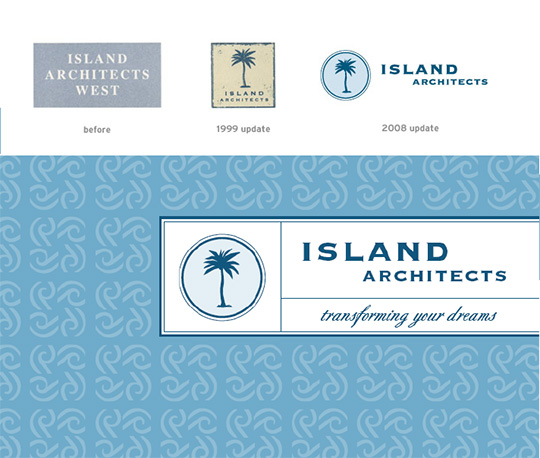 Island Architects made a strategic decision to expand their positioning beyond traditional residential to include contemporary.
A brand should be a beacon for where your firm is headed. But often, the perception of your firm doesn't match your firm's vision. How do you know? A brand perception study can help measure your reputation.
Hightail, formerly YouSendIt, recently rebranded because of a significant change in strategic direction. YouSendIt was known for sending and receiving files too large to email. But today, the company offers considerably more. Their name and perception were holding them back. "We have already far outgrown our original use case of only sending large files, and our name should reflect where we are as a company today as well as where we want to go in the future." says Hightail CEO Brad Garlinghouse.
NOTE: Scenario #1 is a stand-alone reason to rebrand. Reasons #2″"5 warrant rebranding only if combined with #1, or each other.
2) Change of Ownership
Mergers & acquisitions, spinoffs and break-ups are not exclusive to the Fortune 500. They occur within the AEC industry as well.
HOK was established in 1955. In 1983, the firm created the sister brand HOK Sport Venue Event (aka HOK Sport). The brand established itself as the leader in designing sports stadiums. In 2009 through a management buyout, principals of HOK Sport split from parent company HOK. The new independently owned and operated brand is named Populous.
Not only does the name Populous communicate a separation from HOK, it also serves the firm strategically. Working with Milkshake Media, Populous developed a tagline "drawing people together" to communicate capabilities beyond stadia into arenas, convention centers and fairgrounds. "As the world becomes more populous, and ever-advancing technology separates us into audiences of one, our expertise becomes more relevant," says Joe Spear, senior principal. "Our singular focus is to design containers of emotion for the collective energy of lots of passionate people."
3) The Brand Identity is Rotten
Unlike greek yogurt containers, A/E/C firm logos do not come with an expiration date. This is unfortunate because many A/E/C firm brand identities have lost their freshness and fester in the back of the marketplace refrigerator unnoticed by owners. However, potential clients and employees do notice. Fair or not, they make judgements about the firm based on subtle visual cues. Reread Malcom Gladwells classic, Blink, if you need a refresher.
Graphic design, like all forms of design and fashion, cycles through trends. Colors, patterns, and typography (fonts) can become dated. A/E/C firms constantly claim being current with technology. This claim falls flat when handing out business cards with a tired logo straight out of 1972!
4) Coming of Age
There are watershed moments in a firm's life cycle that mark the transition from start-up into maturity. This is the equivalent of a sweet 16 party or heading off to college; marking the transition from adolescence into adulthood.
For A/E/C firms, this transition may be a game-changing project win, a strategic leadership hire or moving into a new office. The result is that the firm has left the minor leagues in favor of the majors. A rebrand may be necessary to mark this evolution.
5) Anniversaries
Birthdays that end in zero often cause us to reflect upon where we've been, and where we are headed. Sometimes this results in a mid-life crisis. The same is true for A/E/C firm anniversaries; a great time to pause and evaluate. A SWOT analysis can be a valuable tool for moving forward. It's best to engage an outside consultant to help with this process because you can't read the label if you are inside the jar.
A 10, 20, or 30-year anniversary itself is not a reason to rebrand. But, it may cause you to reflect, and realize catalysts one through three mentioned previously are also occurring. If so, then it's time to rebrand.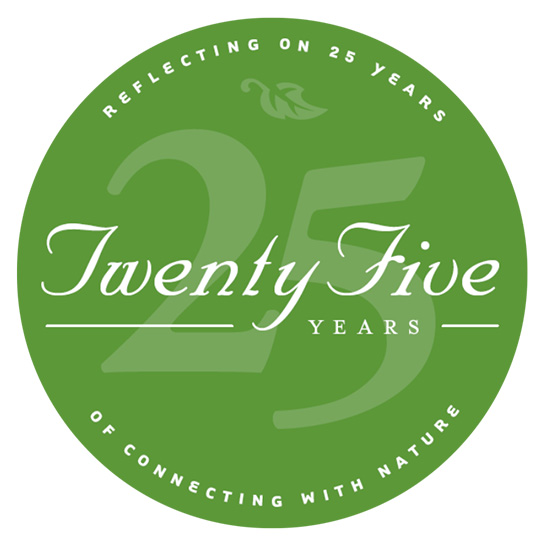 Firms often add an anniversary logo to compliment their core logo. You've probably seen these "30 years of service / script typeface / laurel leaf embossed seals" used in email signatures, or as stickers on outgoing envelopes. To be clear, this is not rebranding, and it certainly isn't unique. A better approach is a memorable event to celebrate the accomplishment with past, present and future clients and employees.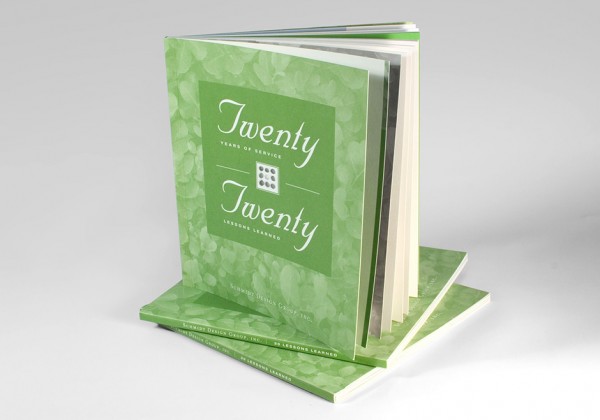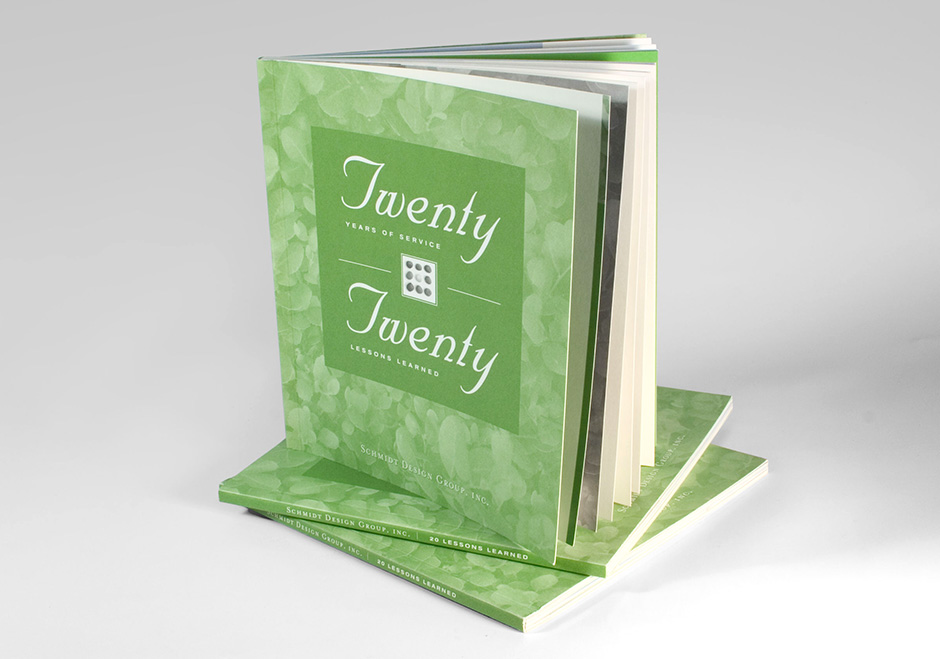 For Schmidt Design Group's 20th Anniversary, LecoursDesign designed a gift book given to past, present, and future clients at their memorable anniversary event.
Rebranding can be scary, costly and time consuming. There needs to be a good reason to reincarnate your firm. If any of these scenarios hit home, get professional help now. Don't wait until decline or death. A successful rebrand can breathe new life into your firm.
---
For more about LecoursDesign branding services, click here.
To purchase David's archived SMPS rebranding webinar, click here.
---