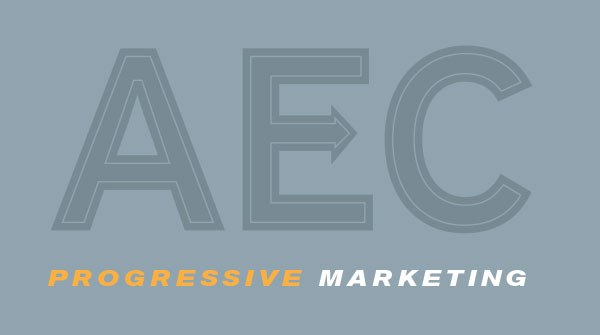 This post is the first in a series highlighting progressive marketing from A/E/C firms and leaders. How do I define progressive? Firms that are marketing proactively, not simply reacting to RFPs. It's leaders developing, sharing, and archiving their knowledge as experts. Progressive firms believe that relationships can, and do, begin online, so they are fluent in digital marketing. Progressive firms embrace human-centered marketing with emotional intelligence, and the vulnerability of creative risk-taking.
I chose to interview Nicole La, Experience Director at TEECOM, because of their progressive marketing to clients and talent through experience design.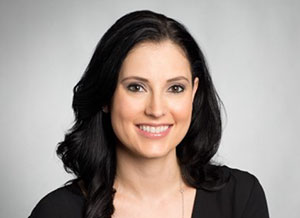 Tell me about your firm.
TEECOM provides "the tech in architecture.™" We provide integrated telecom, audiovisual, acoustics, security, network and wireless technology design for clients including building owners, tenants, architects, engineers, and contractors. We work in many sectors with a common theme of improving the experience of people using our clients' buildings. Of course we want our clients to be happy, but really we are advocates for the people that live, work, learn, heal, and perform in the buildings that our clients design and build. We are 90 people, with offices in Oakland, Dallas, Portland, and Brighton, United Kingdom.
Tell me about your title, Experience Director.
I set strategy for our firm's hiring, marketing, and internal continuing education efforts. I focus on the employee and client experience enabling TEECOM to continue to evolve toward true innovation.
So, not just marketing to win new clients, but also marketing to win and retain talent?
Yes, it's crazy how most firms leave recruiting and retention to only Human Resources when the Marketing department typically knows the brand best, and how to persuasively tell the firm's story.
How did your role evolve?
A year ago, our CEO asked me to take over talent recruiting. At first I was resistant because it was unfamiliar territory. But the more I thought about it, recruiting is simply marketing for people. I didn't want to give up marketing to clients, so our CEO and I brainstormed about how we could make it work. Part of our solution was to hire a Marketing Manager for proposals to free me up to embrace my new responsibilities.
How did your firm begin with experience design?
Leaders in the firm read The Experience Economy by Pine and Gilmore, and it changed the culture of our firm. The book promotes a new way of thinking about connecting with clients and talent (employees) to win their loyalty. Simply selling services is no longer enough. Leading firms stage experiences that enhance the value of their services.
How did TEECOM start implementing experience design?
Good question, because in our first year, before we rolled this out to the client experience, we focused on the employee experience. We did an experience mapping exercise starting with job candidates learning about TEECOM, to the interview experience, through the hiring process. New hires receive a playful "Welcome to TEECOM" handbook that is customized for that person. It is not a full-on employee handbook, but rather a customized welcome to the team, complete with maps, Yelp reviews of local services, and all-important local restaurant reviews.
What are some things you are doing to enhance the employee experience?
New employees are greeted at their desks by a gift of branded materials that they have personally chosen through our online store. We recognize employee accomplishments such as obtaining certifications or anniversaries on our general Slack channel and in our monthly all-hands meetings. We post employee kudos on digital signage throughout the office. Each employee receives a FitBit and we host wellness programs for the mind and body, branded as TEECOMfit. All employees have a mentor with whom they meet regularly to set specific career goals and, if they want, personal goals. We are currently launching TEECOMuniversity, an internal continuing education program open to all employees, which gives a formal structure to our ongoing knowledge shares.
As a technology company, how do you use technology to measure internal experience?
We don't use email for internal company communication. Instead, we use Slack, a cloud-based team collaboration tool. Within Slack, employees receive a weekly pulse survey via Officevibe with five simple questions about how things are going at work. Feedback is delivered anonymously to management in an engagement report with suggestions for improvement. We also use a platform called Small Improvements to conduct quarterly 360 Reviews for continual feedback and improvement.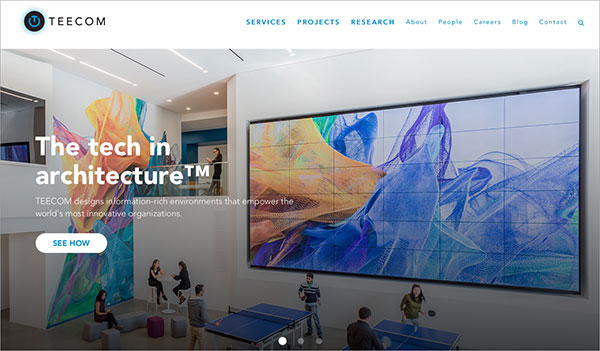 photo in website: ©Emily Hagopian
What about marketing for the client experience?
We had already been helping our clients to map the experience of their building users, so it made sense that we would map the experience of our own clients from beginning to end. We developed a set of guidelines for the business development and proposal experience outlining everything we need to do to win great clients. We elevate ourselves as pursuit team members by responding quickly and providing materials that go above and beyond the basic request. We help clients along their decision-making process by creating articles and videos to educate and inform them about how technology's evolution will impact their projects. Our guidelines for project management describe behaviors shaped by our firm values: demonstrating that we care, maintaining trust, and finding ways to add value. We typically measure the client experience through direct feedback at dinners and events with clients.
Conclusion
Nicole and TEECOM are a great reminder that A/E/C firms aren't simply selling services, we are selling a complete experience. The sum of these experiences equal our reputation, aka brand. This reminds me of the famous Maya Angelou quote, "People will forget what you said, people will forget what you did, but people will never forget how you made them feel." Make people feel great throughout the journey of your firm, and you'll develop fierce loyalty.
As TEECOM's website declares, "our clients demand innovation." It's great to see the firm practicing what they preach by embodying innovation in their marketing approach. If your firm is ripe for this approach, start small with a single client or employee experience that you can master. Then, build on that momentum for a more comprehensive approach that will hopefully become integrated into your culture. To learn more, below are some resources.
Resources Mentioned
The Experience Economy book
Adaptive Path (consulting firm that helped TEECOM with experience mapping)
Slack cloud-based team collaboration tool
Officevibe for pulse surveys
Small Improvements for 360 reviews
TEECOM